Conservative candidate Heather Wheeler in hospital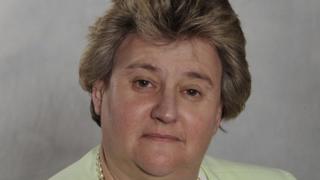 A Conservative parliamentary candidate has been forced to launch her campaign for re-election from her hospital bed.
Heather Wheeler was admitted to Queen's Hospital in Burton, Staffordshire, for a "resilient infection".
The Derbyshire South candidate said Prime Minister David Cameron had wished her a speedy recovery.
She was initially suspected of having a virus but had to be admitted shortly before she was due to officially launch her campaign on Saturday.
Derbyshire South was a Conservative gain from Labour in 2010, with Ms Wheeler winning a 7,128 vote majority.
It is also being contested by Green candidate Marianne Bamkin, UKIP's Alan Graves, Lib Dem Lorraine Johnson and Labour's Cheryl Pidgeon.