Lancashire's key election battle to go down to the Wyre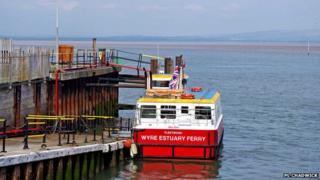 Welcome to Lancaster and Fleetwood - the most marginal seat in Lancashire.
The irony is that, back in 2010, the Conservatives were buoyant here, having snatched the constituency away from Labour.
But now its candidate, former history teacher Eric Ollerenshaw, will be doing his maths homework ahead of the big exam on 7 May.
He is officially vulnerable, having a majority of only 333. Labour needs a swing of less than 0.4% to paint the area red.
Cat Smith is standing in her first general election and knows the pressure is on - this is Labour's top target in the whole of the North West, after all.
There's no shortage of candidates given the vulnerability of the seat.
UKIP's candidate is law student Matthew Atkins now living in Over Kellett and his party's vote will be an interesting factor if disillusioned voters turn to them at this election.
The Greens, who finished fourth in 2010, have always had a strong base in Lancaster and veteran campaigner Chris Coates is the party's candidate in this election. Mr Coates is also a city councillor who lives locally and works on various construction projects.
The Liberal Democrats finished in third place at the last election and its candidate Robin Long will need to work hard to equal that given the party's place in the polls. Mr Long is a scientist at Lancaster University with a PhD in Physics.
Harold Elletson, former Conservative MP for Blackpool North, is also standing as an independent for the newly-formed Northern Party.
Elsewhere, the party manifestos have been set out but, here in Lancashire, will anyone actually bother to read them?
There are very few banners or billboards around, certainly far fewer than was the case in previous campaigns.
The fact is that, while this election is being heavily scrutinised by the political experts, most of the public appear to be taking very little interest.
Many have yet to decide whether they will vote at all, never mind for which party.
Labour has to persuade its supporters that it's on the right track, but given the national polls it might not be easy.
Targeting the key seats they need to win to become the largest party - let alone enjoy a majority - is one thing, but winning them back will be tough.
While the Conservatives didn't win the last election, they won enough seats in Lancashire to upset the Labour apple cart.
The seat of Chorley, held by Labour since 1997, sets out the party's dilemma. Back then the majority was 10,000, but at each election that figure has been reduced and is now just 2,500.
This means the Conservatives could take the seat with a 2.6% swing. If they can repeat that across the country, the Tories may well have an outright majority.
The first of three special BBC Radio Lancashire general election debates will be broadcast live from Dukes Theatre in Lancaster on Friday at 11:00 BST. Brett Davison and Sally Naden will be your hosts - tune in to hear them put all of the candidates through their paces.