Derby City Council to consider giving staff time off to vote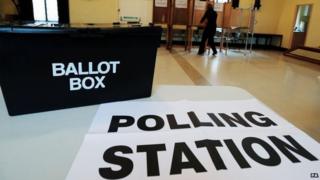 A council is considering giving its staff time off to vote in an effort to end a turnout "crisis".
Derby City Council has had a lower than average turnout with a quarter of voters taking part in some wards.
A report made several recommendations including allowing time off to cast a ballot and using social media to engage with young people.
It said the scheme had "arguably" helped Canadian and New Zealand elections.
Across the local authority, which elects a third of its councillors every year, the average turnout was 39.2% in 2011 and 34% in 2014. But, in wards such as Mackworth and Sinfin it was a little over 26%.
That compares with a national figure of 42% in 2011 and 35.7% in 2014.
Review of voter turnout recommendations
Making it easier to vote and encourage postal votes
Improve engagement with the electorate
Target young people early in the election process
Consider lowering the voting age
Increase use of social media
Encourage employers to consider giving employees time off to vote
Support the change of the electoral cycle from election by thirds to all out four-yearly elections.
The council's report cited examples in New Zealand and Canada, where all firms have to provide time off to vote, it could be argued it has increased turnout.
Councillor Lisa Eldret, who chairs the committee that will consider the report, said: "Voting is one of the most important things we do.
"We have a crisis at the moment in terms of people participating in the democratic process - for many reasons.
"One of things we can do is look at how we support and facilitate people getting access their democratic right."
Ms Eldret, whose ward is not up for re-election, added that talking to young people and understanding what might encourage them to vote was also an important part of increasing turnout.
The Corporate Scrutiny and Governance Board will consider the report on Monday before it is sent to the council's cabinet later in the year.