Cambridgeshire UKIP candidate 'sorry' over poppy in advert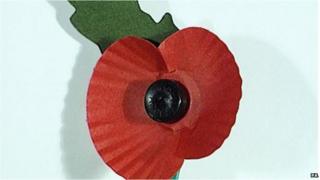 The Royal British Legion has condemned the use of a Remembrance Day poppy in a newspaper advert by a UKIP parliamentary candidate.
The charity said the step was "wholly unacceptable" as it was a registered trademark not to be used politically.
Andrew Charalambous, UKIP candidate in Cambridgeshire North East, apologised.
"The poppy is entirely non-political, non-partisan and non-sectaria and its use in this context is entirely unacceptable," the Legion said.
"The Legion red poppy is the registered trademark and device of The Royal British Legion and its only lawful use is in the support of our charity and the Poppy Appeal.
"We will take all necessary steps to ensure that this does not happen again."
The poppy was shown next to a picture of UKIP leader Nigel Farage.
A UKIP spokesman said: "Mr Charalambous is embarrassed and deeply apologetic that he used the Royal British Legion poppy in his advertisement.
"A member of the Royal British Legion for many years, he apologises profusely. He is adamant he will not do so again."
---
Cambridgeshire North East candidate list
Steve Barclay, Conservative
Lucy Nethsingha, Liberal Democrats
Ken Rustidge, Labour
Helen Scott-Daniels, Green