Oxford East candidates call for cycle safety improvements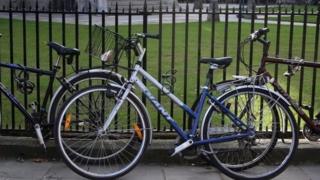 The safety of cycling in Oxford needs to be improved, Oxford East's parliamentary candidates have said.
Speaking at a hustings event about environmental issues, the Green Party and Liberal Democrat candidates said more investment was needed to improve safety for cyclists in the city.
Labour criticised the county council's record in repairing potholes on roads and cycle paths.
The Conservative and UKIP candidates did not take part in the event.
The event at Oxford Town Hall was staged by climate change campaign groups including Friends of the Earth, and solely focussed on environmental issues.
According to cycling charity CTC, 17% of Oxford residents cycle-commute, the second highest rate in the UK.
Labour city councillor Tom Hayes, standing in for candidate Andrew Smith who was unable to attend for family reasons, said the level of investment in cycle facilities in the UK was "pretty shabby".
"It's quite clear that with more spending on cycling infrastructure we can get people on their bikes. A key problem is that we don't have enough people finding it safe to cycle due to the county council not repairing pot holes quick enough."
Ann Duncan of the Greens said her party would invest "£30 per head" in cycling.
"We want to make safe cycle lanes, put a huge amount into training, especially for children in school. There has been too many deaths and serious injuries among cyclists.
"In Oxford we want more joined up cycle paths and separate cycle paths from very busy roads."
Lib Dem hopeful Alasdair Murray called for cycling to be treated the same as other forms of transport.
"One of the big problems is adults are too scared to cycle - I want safety improved."
UKIP's Ian MacDonald, who was not able to attend the event, said much had already been done to make Oxford cycle-friendly.
"I think short of wrapping people in bubble paper, some onus should be put on to cyclists now to ensure their own safety. We should support this by providing more awareness of the Highway Code."
Melanie Magee, Conservative, said: "I don't think cycling is safe in the city, it can be quite nightmarish.
"We need more cycle lanes and more awareness for drivers and cyclists."
Labour's Andrew Smith won the Oxford East seat in 2010, beating the Lib Dems by 4,581 votes.
---
The candidates for the constituency are:
Chaka Artwell - Independent
Ann Duncan - Green
Mad Hatter - Monster Raving Loony Party
Ian Macdonald - UKIP
Melanie Magee - Conservative
James Morbin - TUSC
Alasdair Murray -Liberal Democrat
Kevin Parkin - Socialist Party GB
Andrew Smith - Labour
---