Political leaders visit South East ahead of general election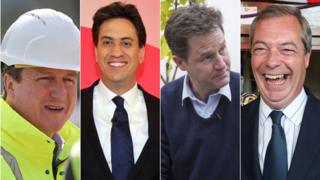 The leaders of four of the main parties in England have been campaigning in the South East ahead of the election.
Conservative leader David Cameron visited Bexhill to look at work on a new bypass.
Labour's Ed Miliband visited a sixth form college in Hove and on Sunday Liberal Democrat Nick Clegg spent time visiting Kent and Sussex.
And UKIP's Nigel Farage has been campaigning in the South Thanet constituency where he is standing.
Speaking at the site of the Bexhill-Hastings link road, Mr Cameron said: "Judge us by what we've done.
"Thirteen years Labour talked about this bypass and did nothing, five years of a Conservative government and you can see the diggers are there, the road's being built and the jobs are coming."
'Disgrace'
Mr Miliband was in Hove where he spoke about Mr Cameron's record on the NHS.
He said: "Here's the worst thing of all - David Cameron calls it a success.
"It isn't a success it's a disgrace. His record is a disgrace and on Thursday with your help, this Labour Party will rescue our National Health Service."
Mr Clegg spent time in Maidstone, Tonbridge and Newhaven on Sunday.
He said: "There's a real risk that all the hard work, all the sacrifices that so many people here in the South East have made... is undone and squandered as Conservatives lurch to the right and cut, cut, cut, public services to the bone and the Labour party lurches to the left."