General Election 2015: Which issues are most important in Lancashire?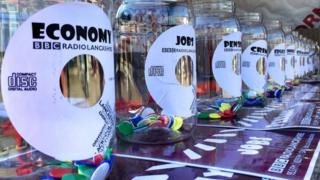 Throwing tiddlywinks into old sweet jars might not be the height of political science, but after speaking to more than 2,000 people from across Lancashire, we have a fair idea of what matters most to the county's voters.
Everybody who has visited one of BBC Radio Lancashire's pop-up market stalls - there were 16, one in each constituency - has been given three tiddlywinks which they throw into jars labelled with a wide range of general election issues.
The 12 hot topics included national issues such as the NHS, immigration and the economy, as well as more local concerns like fracking.
Most of the people we spoke to had put a lot of thought into their choices and many gave personal reasons for their decisions.
The future of the health service seemed to be the most important issue to people across Lancashire.
One woman told us she buys a lottery ticket every Saturday in the hope she has a "big win" and can donate some money to the NHS to repay them for saving her life.
A 19-year-old man put all of his tokens into the "housing" jar. He said he'd been kicked out of his mum's house and had been "sleeping in a tent for three nights, picking different spots around Leyland" after receiving "no help from anyone".
A woman in Preston highlighted the importance of the state of the economy. She said a friend of hers has had to sell his house following a move to a zero-hours contract, meaning he can no longer afford to pay his mortgage.
In Blackpool South - a constituency with the highest percentage of Jobseekers' Allowance claimants in Lancashire and the third highest in the whole of the North West - the economy was also mentioned a lot.
'Lie-detector tests'
Along the coast, fracking was seen as twice as important in Fylde than anywhere else in the county, which is perhaps no surprise given that the constituency is home to the two planned shale gas extraction sites at Little Plumpton and Roseacre Wood. Local people spoke of concerns about noise pollution, traffic problems and house prices.
At the end of our visit to Lancaster, the environment jar was more full than it had been during the rest of our tour, something which could be expected in a city where the Green Party have performed well in local elections and currently have 10 seats on the city council.
For many would-be voters, though, politics itself was on trial. Many said they were disillusioned by an apparent lack of choice between the five main parties.
"Politicians don't know what real people are like," one man in Lancaster told us. "None of them are in our world," said a woman in Ormskirk. A voter in Morecambe and Lunesdale said "they should make them take lie-detector tests when they're announcing their manifestos".