Royal Holloway students in bid to boost campus votes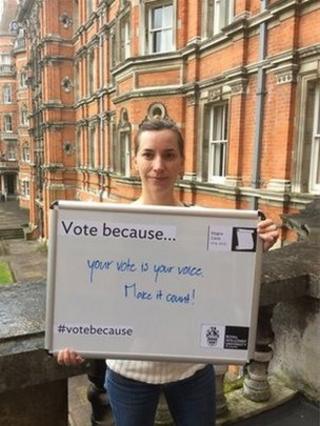 Students in Surrey are waging a social media campaign to encourage voters to go to the polls on Thursday.
Royal Holloway University began its #votebecause campaign in February in a drive to encourage its own students to use their right to vote.
When the campaign began, staff and alumni photographed themselves holding up placards about why they would vote.
This week's campaign has seen "vote" slogans created across campus and will run until polls close on Thursday.
Dr Kaat Smets, from the Department of Politics, said voter turnout among young adults had fallen rapidly in the past two decades and was now among the lowest in Europe.
She said the social media drive was to encourage students to think about why voting was important.
Principal Paul Layzell said the campaign built on the university's Magna Carta celebrations, which focused on the rights of citizens.
And he said it would restore the suffragette enthusiasm of Royal Holloway alumna Emily Wilding Davison.