UKIP's John Leathley 'ashamed' of Yasmin Alibhai-Brown slurs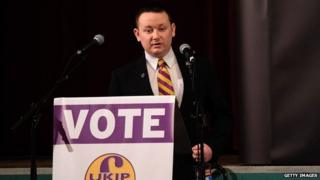 A UKIP parliamentary candidate has "apologised unreservedly" for posting offensive remarks about a female journalist.
John Leathley used sexually explicit language about the British Muslim journalist Yasmin Alibhai-Brown on an online forum.
Mr Leathley is the UKIP parliamentary candidate in Tony Blair's former seat of Sedgefield, County Durham.
Ms Alibhai-Brown said his comments were "absolutely appalling".
They were made on 20 November last year while Ms Alibhai-Brown was appearing on the BBC's Question Time programme, but have now been made public.
'Deeply ashamed'
In a statement, Mr Leathley said: "I would like to apologise unreservedly to Yasmin Alibhai-Brown.
"Having now read what I wrote, I am shocked and am appalled and deeply ashamed of my words.
"The comments were made during a private conversation in the evening and clearly were never meant to be publicly released, and they should never have been said.
"I am very sorry and regret deeply being so coarse, it is out of character but no more excusable for that."
In response, Ms Alibhai-Brown told Mirror Online: "I saw the apology and of course I'm not going to give any credence to it at all. You don't apologise because you are found out.
"Was he drunk? If he wasn't, then what he said was absolutely appalling. It's sexist, it's racist, it's violent."
Labour's candidate in Sedgefield, Phil Wilson, who is defending the seat, called on UKIP to sack Mr Leathley.
Speaking on Twitter, he said his comments against women were "obscene and disgusting".