Election 2015: Labour take Redcar from Lib Dems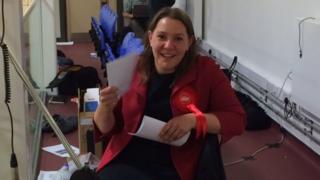 Labour has taken Redcar from the Liberal Democrats, but failed to win the marginal seat of Stockton South from the Conservatives.
Elsewhere, Labour held on to Bishop Auckland, Darlington, Hartlepool, Sedgefield, and Stockton North.
With a Conservative majority of 332, Stockton South was heavily targeted by Labour.
However, James Wharton retained the seat, increasing the majority to more than 5,000.
"There's actually a lot of good news in our area," Mr Wharton said.
"We're fighting hard and working hard to deliver it."
'Increasingly disparate'
UKIP came third in Stockton South, ahead of the Liberal Democrats.
In Redcar, Labour's Anna Turley overturned a Liberal Democrat majority of more than 5,000 to take control by 10,388 votes.
She said: "We've seen a country that's increasingly disparate, as often happens under a Tory government and so, yes, the North East, particularly Teesside, particularly Redcar, has been hit really badly".
The Liberal Democrats came second but gained only 42 votes more than UKIP.
Redcar had traditionally been a Labour seat - a previous incumbent was Mo Mowlam - but they lost during a surprise result in 2010, when the Liberal Democrats overturned a majority of 12,116.
Middlesbrough and Middlesbrough South and Cleveland East have stayed in Labour hands.
Local elections are being held for Darlington, Hartlepool, Middlesbrough, Redcar and Cleveland and Stockton councils. There is also an election in Middlesbrough for an elected mayor.
You can follow the results on our election live service.