Conservatives sweep across Dorset turning county all blue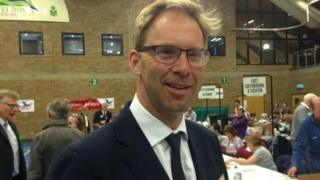 The Conservative Party has taken all seats across Dorset, claiming the one Liberal Democrat-held seat in the county.
In Mid Dorset and North Poole, Conservative Michael Tomlinson beat Vikki Slade - a seat which had been held by Lib Dem Annette Brooke.
The Tories held Bournemouth East and West, Christchurch, Dorset West, North and South and Poole.
Tobias Ellwood was re-elected in Bournemouth East.
After the count, which saw the Conservatives cross the finishing line with a 14,612 majority, Mr Ellwood said: "Two Conservative MPs return to Westminster, we're both elated."
He said he aimed to support tourism in the town and would be tackling the "big challenge" of the proposed Navitus Bay wind farm.
The former coalition partners lost 22.5% of their vote in that constituency.
Ms Slade, the Lib Dem candidate who failed to hold on to her party's seat, tweeted: "I am looking for a job! Will consider anything that my skills fit..Please pass to anyone who may be looking!"
Her CV lists dinghy sailing among her interests.
Richard Drax will be returning to Parliament after winning the Dorset South seat with 23,756 votes over Labour's Simon Bowkett's 11,762.
Conor Burns held the seat of Bournemouth West with 20,155 votes and Christopher Chope retained Christchurch for the Conservatives with 28,887.
UKIP came second in both of these constituencies.