Election 2015: Arrests over police car fire at Bosworth count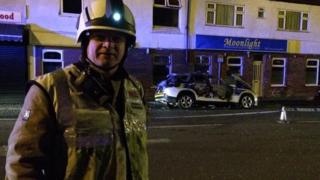 Five men have been arrested in connection with a police car fire outside an election count in Leicestershire.
Fire crews were called to the patrol car on fire outside the Bosworth parliamentary count at Hinckley Leisure Centre.
Steve Moore, watch manager at Hinckley Fire Station, said no-one was injured in the incident.
Onlookers said the car "exploded" and glass was blown across Coventry Road.