Election 2015: No change in North Yorkshire seats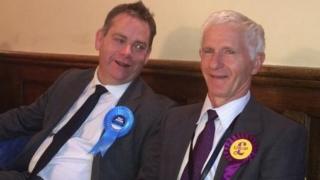 None of the parliamentary seats in North Yorkshire has changed hands.
The Conservatives held seven of the eight seats in the county, with Labour holding York Central.
The Liberal Democrats saw their share of the vote fall dramatically in all the seats they contested.
In Harrogate & Knaresborough, Andrew Jones, who won the seat for the Conservatives in 2010, saw his majority of 1,039 increase to more than 16,000 this time.
Rachel Maskell held York Central seat for Labour.
Ms Maskell is a new MP, replacing Sir Hugh Bayley who stood down after holding the seat since 1992.
She said she would continue to fight on issues, despite Labour losing nationally.
"I think people really heard the message we put out there: the way that I will champion their causes, the way I will fight for the future of the NHS."
'Perfect storm'
Nick Love, Lib Dem candidate in York Central, described his party's collapse in the polls as "apocalyptic".
He was beaten into fifth place and saw his party's share of the vote fall by 17%.
"I think it's a perfect storm," he said.
"The coalition, even though we went into it for all the best reasons, it turned out we got a backlash."
In Selby and Ainsty, sitting Conservative MP Nigel Adams increased his majority.
The Labour target seat of Scarborough and Whitby remained Tory, with the Lib Dems beaten into fifth place behind UKIP and the Greens.
The Conservatives held Richmond, the seat vacated by former Foreign Secretary William Hague.
New MP Rishi Sunak won, despite his party's share of the vote falling by 11.4% compared with 2010.
Kevin Hollinrake held Thirsk and Malton, despite a rise in the Labour, Green and UKIP vote. The sitting MP Anne McIntosh was deselected following a vote of no confidence by local Conservative activists.
Elsewhere, in Skipton and Ripon and York Outer the Conservatives increased their share of the vote.