Local Election 2015: Yorkshire and Humberside results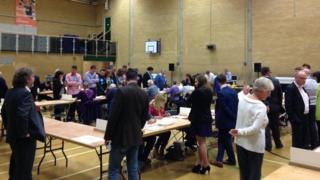 Labour and Conservative have both gained councils from no overall control by one seat each.
The Tories also took a council from independent control and retained six authorities in Yorkshire as well as North Lincolnshire Council.
Labour retained control of five councils in Yorkshire and the Humber while gaining Bradford City Council.
Of the 21 local councils holding elections, 16 had not changed hands with two still to declare.
The Conservative Party won Scarborough Borough Council, which had previously been under no overall control, and gained nine seats at Richmondshire District Council, with eight coming from independents and one from UKIP.
Kirklees Council, Calderdale Council and North East Lincolnshire Council remained under no overall control.
In Rotherham, UKIP were expected to do well in the wake of the child abuse scandal but the party only managed to win three more seats, with Labour retaining control of Rotherham Metropolitan Borough Council.
The final result for Doncaster Metropolitan Borough Council is expected later.
City of York Council, which had previously been under no overall control, is expected to declare its result on Saturday.