New Telford MP Lucy Allan vows to tackle unemployment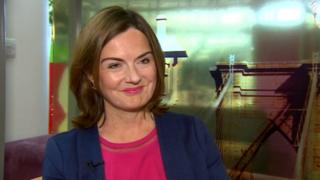 Telford's first Conservative MP has vowed to improve the town's infrastructure as a way of bringing more jobs to the area.
Lucy Allan was elected to the Shropshire seat with a majority of 730 after beating Labour's David Wright, who had held office since 2001.
Mrs Allan, previously a chartered accountant, said her victory had been "unexpected for many people".
She said she tackling youth unemployment was a "major issue".
'Improve access'
"It has been coming down over the last two years but bringing business, jobs and growth to Telford is wholly dependent on connecting it to the wider infrastructure of the country," she said.
She said she wanted to see better access from Telford to major cities like London and Birmingham and improve digital links.
"We have really poor broadband and bad mobile reception," she said. "All those are things you really need for successful business and for self-employment, which is a big area of growth for us."
She said the town's mix of urban and rural facilities gave it a "unique identity".
"There is good-value housing and a lot of new, industrial, hi-tech jobs coming to the area," she said.
"The quality of life is extraordinary. We have wonderful green spaces, which I have committed to protecting."
She said she did not feel guilty about the number of former MPs who had failed to hold their seats at the election.
"No-one should have a job for life - particularly in politics," she said.
"It's really healthy to bring in new, enthusiastic, focused people. I believe it will give Telford a new way of seeing itself."