Election 2015: Ulster Unionists 'will work' with Labour or Tories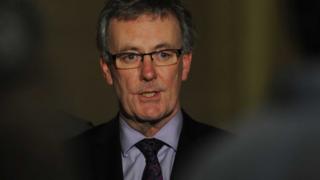 Ulster Unionist leader Mike Nesbitt has said his party could work with either the Conservatives or Labour following the general election.
"We have got very good relations with the secretary of state and the shadow secretary of state," he said.
"We don't have any formal relationships with either of their two parties and we could work with either.
Mr Nesbitt also called for a principled approach following the election.
"It's not about going to Downing Street with a begging bowl, or a list of demands," he said.
Auction
"I think you have to go to Westminster with values, and values are not an auction item which are available to the highest bidder.
"You have to take a long term view of the union, which is still under threat."