Gay 'abuse' row: Does Jim Wells apology cut ice?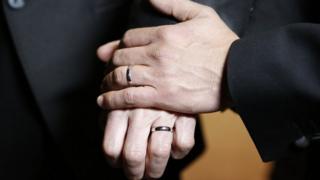 When David Cameron was this week backed into saying he "will never validate" the Democratic Unionist Party's stance on lesbian, gay, bisexual, or transgender (LGBT) issues you can bet the DUP was listening.
Well, the leadership would certainly have been listening, but possibly not Jim Wells in light of subsequent events.
Yes, the health minister has been under enormous pressure with his wife's recent illness.
But ill-judged scarcely does justice to his comments linking child abuse and gay relationships.
His apology might have cut more ice with the critics if it had not been preceded a few hours earlier with a non apology issued through the party press office at eleven minutes past midnight.
For now he has the party leader's public backing.
Though it's still unclear how long Mr Wells can remain as Northern Ireland's health minister.
A lot may depend on how much media coverage the story gets in Britain.
The DUP, let's not forget, have played up their possible role in the event of a hung parliament for all it's worth.
If Mr Cameron was forced to squirm so badly on Wednesday over the DUP's attitude to gay rights, you can bet things will be a whole lot worse the next time the subject gets raised.