Election 2015: Party leaders prepare for BBC debate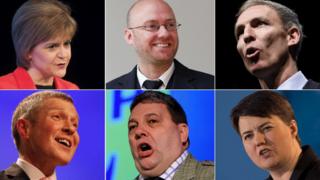 Political campaigning has moved up a gear as Scottish party leaders prepare to go head-to head in a BBC Scotland debate in Aberdeen.
Campaigning in the city, First Minister Nicola Sturgeon said only the SNP could guarantee support for the oil industry.
Scottish Labour leader Jim Murphy was also in Aberdeen to highlight his party's stance on disability benefits.
The Liberal Democrats focused on scientific research, while the Scottish Conservatives campaigned in Glasgow.
BBC Scotland's James Cook is to present a debate between the leaders of Scotland's six largest political parties from Elphinstone Hall in Aberdeen.
On the panel are Scottish Conservative Ruth Davidson, Patrick Harvie from the Scottish Greens, Scottish Labour's Jim Murphy, Willie Rennie from the Scottish Liberal Democrats, the SNP's Nicola Sturgeon and UKIP's David Coburn.
You can watch the programme live from 21:00 to 22:00 on BBC One Scotland or BBC News Channel or on the BBC Scotland news website.
It follows a televised debate between leaders of the four main parties on STV on Tuesday night.
Ms Sturgeon was on the campaign trail with Kirsty Blackman and Callum McCaig, the party's respective candidates for Aberdeen North and Aberdeen South.
Campaigning in the Castlegate area of the city, the SNP leader said previous UK governments had "played fast and loose" with the oil and gas sector.
As she prepared for her second television debate in two days, she said she would continue to drive home her message.
She said: "I will continue to do what I've done in the previous debates, which is put forward the case for Scotland's voice being heard more loudly at Westminster and for there being a big team of SNP MPs to make Scotland's voice heard. But also to build alliances to get better policies coming out of Westminster.
"I want to see an alternative to austerity, I want to see money being spent on the future of our children, not on new nuclear weapons. I want more action to grow our economy and create jobs. I want to see a higher minimum wage. These are the kind of policies that a big SNP team in Westminster can help to bring about."
Mr Murphy joined Aberdeen South candidate Anne Begg during a visit to a charity for homeless and vulnerable young people.
He set out Labour's five-point plan for disabled people, including an overhaul of what he calls the "failing" Work Capability Assessment, as well as a £175m anti-poverty fund.
He also said he relished the opportunity to take on his opponents in BBC Scotland's leaders' debate.
He said: "I'm looking forward to tonight's debate, it'll be a chance on the BBC to talk about the huge difference between the Labour party and the Tory party.
"Look, people say traditionally the parties are all too similar, well in this election no one can say that because it's about five more years of David Cameron's crushing austerity, versus Labour's plan of ending that austerity, increasing people's wages, abolishing food banks and abolishing these exploitative zero-hours contracts."
'Common sense'
Elsewhere on the campaign trail, former Liberal Democrat leader Sir Menzies Campbell and East Dunbartonshire candidate Jo Swinson met researchers at the Beatson Institute to highlight their party's pledge to create jobs through investment in science and research.
Sir Menzies said Scottish Lib Dem leader Willie Rennie had performed well in the STV leaders' debate, and should use the same tactics in the BBC Scotland head-to-head.
He said: "Willie Rennie was the voice of common sense and good judgement.
"At one stage the three others were shouting over each other, you couldn't hear the things they were saying, and Willie Rennie was putting the point, which is absolutely fundamental to the Liberal Democrat approach in this election, that we've got to balance the issues of the cuts which are necessary against ensuring that we protect the people that are the most vulnerable. And that was common sense.
"Keep going, do as you've done. Entirely sensible, the voice of reason and let the others squabble away."
And former Scottish Conservative leader Annabel Goldie joined activists to campaign in Glasgow city centre where she said her successor, Ruth Davidson, would again challenge Nicola Sturgeon in the BBC Scotland debate.
She said: "I think she (Ms Davidson) gave a very good performance last night.
"I think the important things to do were make sure that Nicola did not have the relatively easy ride she got in Manchester because there were no Scottish politicians to obviously cross-examine her on her record up here. Whereas last night Nicola found herself defending her record in government."
A second BBC Scotland debate will take place on 3 May with Labour's Jim Murphy, the Lib Dems' Willie Rennie, the SNP's Nicola Sturgeon and the Tories' Ruth Davidson.