Election 2015: Nicola Sturgeon gives support to online abuse victim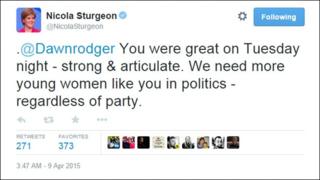 Nicola Sturgeon has sent a message of support to a woman who was abused online after appearing on Tuesday night's STV election debate.
Dawn Rodger told the programme she had been an undecided voter who now thought she was going to vote Labour.
A photograph was later circulated online which was wrongly claimed to show her holding a Labour placard.
The woman in the photograph was not Ms Rodger, but she was subsequently subjected to a torrent of online abuse.
Ms Rodger said she had deactivated her Facebook account "just because I can't take any more abuse".
Ms Sturgeon, the SNP leader and Scottish first minister, later tweeted to Ms Rodger: "You were great on Tuesday night - strong & articulate. We need more young women like you in politics - regardless of party."
Ms Rodger replied: "Thank you Nicola I really appreciate that especially coming from you. I'm such a huge fan and as I said I was just nervous."
It is understood the photograph first appeared on the Liberal Democrat Voice website.
'Remarkable resemblance'
An article posted alongside the photograph said: "Last night during the STV Scottish Leaders' Debate, a woman in the audience said she'd been undecided before but Jim Murphy had persuaded her and she thought she was going to vote Labour. Wasn't that nice?
"But the woman in question bears a remarkable resemblance to a woman seen earlier at a Labour photo-opportunity.
"They could be twins, of course… Wouldn't that be a coincidence?"
The author of the article, Caron Lindsay, later apologised for her error after it was pointed out that Ms Rodger was not the woman in the photograph.
Among the Twitter users who retweeted the photograph were SNP MSP Christina McKelvie and Angus MacNeil, the party's candidate for Na h-Eileanan an Iar. Both have since deleted their tweets.
Many of those who retweeted the photograph later sent their apologies to Ms Rodger.
Scottish Labour's deputy leader Kezia Dugdale said: "Social media is a wonderful thing for our democracy, encouraging debate and supporting people to engage with politics on their own terms.
"But when a mob uses these tools to try and silence a young woman from expressing her views we need to ask serious questions about the state of Scotland's political culture."