Election 2015: Parties clash on Scottish finance plans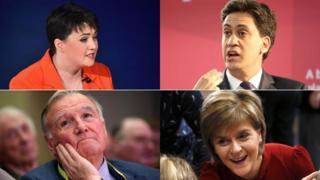 Labour leader Ed Miliband has said the SNP's backing for Scotland to take full control of taxation would leave a £7.6bn hole in its finances.
Campaigning in Edinburgh, Mr Miliband said taxes would have to be raised or borrowing increased in Scotland if it gained full fiscal autonomy.
But SNP leader Nicola Sturgeon said Scotland could grow its economy without suffering more Westminster cuts.
She said the Conservatives supported more Labour-backed spending reductions.
The Tories accused the SNP of trying to achieve "quasi-independence" by the back door, while the Liberal Democrats said the nationalists were threatening public services.
The Scottish budget is traditionally funded by a block grant from the Treasury, calculated under the Barnett formula.
Full fiscal autonomy - which Ms Sturgeon this week said could be voted for by SNP MPs as early as next year - would see the nation, in future, having to raise enough cash to cover all its public spending.
Mr Miliband, campaigning with shadow chancellor Ed Balls ahead of the May UK election, said the Barnett formula would be secure under Labour.
"Full fiscal autonomy will mean a £7.6bn hole in Scotland's finances," he said, adding: "A £7.6bn gap that would need to be filled with more taxes on working people or more borrowing.
"You can't build social justice with a £7.6 billion funding gap because the burdens of it would fall on working families across Scotland."
The Labour leader said scrapping Barnett would also end the pooling and sharing of resources across the UK, arguing: "It means the benefits of Labour policies, like the mansion tax for the NHS and the bank bonus tax to pay for jobs for our young people, won't be felt in Scotland."
The £7.6bn figure comes from the Institute for Fiscal Studies (IFS) and is based on the latest projections from the Office for Budget Responsibility.
But Ms Sturgeon said: "The argument over more powers for the Scottish parliament is about giving Scotland the ability to grow our economy more - not to be at the mercy of continued Westminster cuts."
---
What is fiscal autonomy?
The SNP wants the Scottish Parliament to have control over all of taxation in Scotland.
For the shared costs of continuing to run the United Kingdom, it would pay Whitehall a portion of the takings - for defence, the Foreign Office, the Treasury and shared regulators such as Ofcom and Ofgem.
Those in favour say such a move would respond to public demand for more powers at Holyrood. They say it would provide the levers of power over economic policy that could help grow the economy faster. That includes targeted business tax breaks.
Those against say that it would leave a large gap in the nation's finances - a £7.6bn shortfall next financial year over and above a share of the deficit that the UK is already running.
---
Speaking in Stirling, the Scottish first minister accused Labour of "desperation", adding: "The only cuts on the horizon for Scotland are the cuts that the Tories are planning and that Labour have signed up to.
"The big opportunity in this election is to make Scotland's voice heard, so we can win an alternative to austerity and see modest spending increases over the next parliament."
Ms Sturgeon said her party's plan to invest in growth would free up resources to allow Scotland's NHS budget to increase by a total of £2bn by 2020 - as part of an overall proposal to increase NHS spending across the UK by £24bn - £9.5bn above inflation.
Labour has been trailing the SNP in the polls in Scotland for months, with a YouGov poll for the Times published on Friday putting the SNP on 49%, with Labour on 25%, which - if borne out on 7 May - could leave Labour with only a handful of the 59 seats in Scotland.
---
Analysis by BBC Political Correspondent Iain Watson
Ed Miliband is usually most comfortable attacking opponents to his right.
But in the shadow of Edinburgh castle, Mr Miliband claimed today he had found a chink in the centre-left SNP's armour.
Nicola Sturgeon said she wanted full fiscal autonomy as soon as possible.
So Labour have latched on to a recent analysis by the independent Institute for Fiscal Studies suggesting that with a lower tax base than the UK as a whole - and volatile North Sea oil revenues - there could be a gap of more than £7bn in the Scottish budget.
This allows Labour to say - look, the SNP are an austerity party too because they would have to make cuts to close this chasm.
But Labour have to be careful of how they advance the argument - the SNP say they are facing more "fears and smears" from their opponents.
And if Labour are, in part, being punished for too negative tone during last year's referendum campaign they will have to mix a negative attack on Ms Sturgeon's plans with a positive vision of Scotland's role in the UK.
---
Scottish Liberal Democrat deputy leader Sir Malcolm Bruce, who was campaigning in Cupar, Fife, said: "I suspect the rest of the UK might cheerfully vote for fiscal autonomy, because it would cut Scotland loose without the obligation of supporting, for example, pensions in Scotland.
"The SNP should be careful what they wish for - Nicola Sturgeon is now fundamentally threatening public services and pensions in Scotland on a scale that people should understand would be catastrophically disastrous for the people of Scotland."
Sir Malcolm was speaking as he said his party's policies had seen the state pension increase by £900 since 2010.
Scottish Conservative leader Ruth Davidson, who was in Biggar in South Lanarkshire, said: "When people saw Nicola Sturgeon talk about full fiscal autonomy and how she wanted it as early as next year, they probably felt a little bit betrayed, because it sounds to many like quasi-independence by the back door.
"That's something they voted against in the referendum in September.
"There are real issues here - not least, what's going to get cut to cover the £7.6bn shortfall in Scotland's budget that full fiscal autonomy would result in."
Ms Davidson was speaking as she set out her party's policy to boost mobile phone coverage in rural areas - saying it would ensure the four major mobile networks delivered on an improvement deal negotiated with the UK government.