Election 2015: Scotland's main parties seek voter backing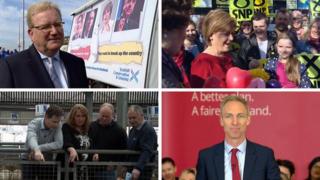 Scotland's main parties have been asking voters to consider what kind of government they would like to see after the general election.
Lib Dem leader Nick Clegg urged voters to stick with his party, while the Scottish Conservatives said an SNP/Labour deal "would cause chaos".
The SNP's Nicola Sturgeon was campaigning in her home town of Irvine.
Meanwhile, Scottish Labour leader Jim Murphy launched his party's manifesto in the east end of Glasgow.
The electorate throughout the UK will go to the polls on 7 May to choose their next MP.
Ashcroft polling
As parties canvassed voters at the end of week three of the six week campaign, new polling by Tory peer Lord Ashcroft suggested that Labour's Mr Murphy and Douglas Alexander would fail to retain their Westminster seats.
The analysis said that in Mr Murphy's East Renfrewshire constituency, the SNP would win with 40% of the vote. In a tweet, Lord Ashcroft speculated that tactical voting by Conservative supporters may save the Scottish leader.
Lord Ashcroft polled eight constituencies, with the study also indicating Charles Kennedy of the Liberal Democrats would lose his seat.
About 1,000 voters in each of the eight constituencies were interviewed by telephone for the poll between 10 April and 16 April.
In the Gordon constituency, the Liberal Democrats warned that Labour's borrowing plans would put jobs and growth at risk.
The party's UK leader Nick Clegg called on Tory and Labour supporters in Gordon to vote tactically to stop Alex Salmond returning to Westminster.
He said: "If you want to stop Alex Salmond pocketing your vote and dancing off to strut his stuff on the Westminster stage, the only way to stop him is to vote for Christine Jardine as the next MP for Gordon."
Mr Clegg urged voters across Scotland to put aside traditional party allegiances to support his colleagues in seats where the Lib Dems are facing an SNP challenge.
He also took a trip to a livestock market in Inverurie, telling those gathered that Mr Salmond "appears to believe that the Gordon constituency is a pit stop on his international book tour".
Mr Clegg said: "They [Gordon constituency] want the politics of hope, of unity, of continuity. They don't want to turn the clock back and reopen all those old wounds and that is what, at the end of the day, what the Scottish nationalists offer."
Offer to Labour
Ms Sturgeon, back in Scotland following Thursday's opposition debate in London, said her party offered the only alternative to austerity.
She reiterated her offer to work with Labour leader Ed Miliband to keep David Cameron out of Downing Street post-election.
Ms Sturgeon told voters: "This is my hometown, it's where I grew up so it's great to be back here. Few things would give me greater pleasure than an SNP MP elected to represent my hometown.
"My message today is very simple - a vote for the SNP on May 7th gets Scotland's voice heard. But it also allows us to be a force for more progressive politics.
"I am making clear today that SNP MPs in the House of Commons would vote to protect the NHS, to restore the NHS in England to a fully public service, to protect the budget for our NHS in Scotland."
She continued: "Ed Miliband knows as well as I know that if there is an anti-Tory majority in the House of Commons after the election then the only way David Cameron gets back into Downing Street is if Ed Miliband stands back and lets him back into Downing Street.
"If Ed Miliband and Labour do that, they will not be forgiven, certainly in Scotland and I suspect in large parts of the UK as well."
'Partnership of chaos'
Unveiling a new campaign poster in Edinburgh, the Scottish Conservatives deputy leader Jackson Carlaw said the BBC's election debate with five party leaders showed that Mr Miliband wouldn't be able to stand up to Ms Sturgeon in government.
He said: "We saw what happened last night and exactly what we would get if the SNP and Labour got into power. If Ed can't stand up to Nicola in a TV debate, what chance has he got in standing up to her in government?
"Last night he looked like an awkward teenager on a date with a strong-willed woman.
"We'd have an alliance between the party which wants to break up the country and the party which wants to bankrupt the country. People in Scotland can only avoid that by voting Scottish Conservative.
"Their partnership would only cause chaos in Westminster in contrast to a strong Conservative government led by David Cameron."
At its manifesto launch, Mr Murphy said his party was fighting to beat David Cameron at the ballot box rather than with a "shoddy back room deal".
He said: "There's only one way of doing that. Nicola Sturgeon and Alex Salmond and all the others can huff and puff as much as they want, only Labour is big enough and only Labour is strong enough to beat the Tories."
Mr Murphy hailed the party's manifesto as a return to the politics of two of Scottish Labour's best known leaders, John Smith and Donald Dewar.
He told activists at Tollcross leisure centre in Glasgow: "In our manifesto I'm proud to say the party of John Smith and Donald Dewar is back in business."