Election 2015: Will Scotland follow Paisley pattern?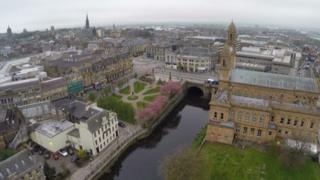 Douglas Alexander is a busy man. He has, we are told, spent the morning telephoning voters before appearing in the small town of Johnstone in a flurry and a hurry.
The weather is breezy, and so is the arrival of Mr Alexander, a 47-year-old son of the manse who has spent most of his adult life immersed in politics.
Labour's activists have set up a stall next to the bandstand and are handing out leaflets. A red balloon breaks free in a gust and quickly shrinks into the sky.
The party's candidate for Paisley and Renfrewshire South conducts two television interviews, shakes hands with a couple of voters and is then whisked away by his minders, off to the BBC studios in Glasgow to talk about foreign policy on Radio 4.
He is here for less than half a hour.
It's no wonder he's in a rush. Mr Alexander is not just running the Labour Party's general election campaign; he is not just preparing for the possibility of becoming foreign secretary in less than a fortnight; but he is also fighting for his political life.
That statement bears repeating. Douglas Alexander, shadow foreign secretary with a seat in the red centre of Labour's heartland and a thumping majority of 16,614 at the last election, is fighting for his political life.
In 2010 he was returned to Westminster with 60% of the vote. The SNP candidate won just 18%.
This month a poll in the constituency carried out by Lord Ashcroft suggested that support for the nationalists was at 50% compared to 39% for Labour. The SNP lead had apparently widened from a previous poll in January. Why?
"I think people tend to dwell on the prior question," ventures Mr Alexander, referring to the "huge, seismic issue" of last year's referendum in which Scotland rejected independence by 55% to 45%.
He is pinning his hopes on change in the closing days of the campaign when, he argues, "people will focus not on the last choice but on the next choice: do we want a Conservative government and do we want a Labour government?"
Pressed further, more soundbites trip off the candidate's tongue.
"The polls have been tough for Scottish Labour for some time...but I take a rather old-fashioned view, let the people decide."
Is he genuinely not worried?
"I've built support in this constituency over many years. It's where I come from. It's the community I know best. I'm confident, but not complacent, I can be the MP as part of a Labour government."
The polished Mr Alexander is every inch the professional politician and the contrast with his Scottish National Party opponent is vivid.
Mhairi Black represents politics in the raw.
Describing herself as Paisley-born and a football fanatic (she supports Glasgow's Partick Thistle), Ms Black is in her final year studying Politics and Public Policy at Glasgow University.
She is 20-years-old and bounces up a sunny street in Johnstone with the energy of youth, engaging householders and passers-by in enthusiastic conversation.
A saltire and a Lion Rampant, Scotland's national flags, fly from one grey house. Old rock'n'roll tunes blare from the open windows of another.
"Obviously like everybody else you voted Labour," says the man with the flags. He switched to the SNP last year.
Ms Black has had her fingers burned by social media with the press reporting social media comments in which she described waking up beside half a can of Tennent's lager and of her "hate" for Celtic FC.
But the comment that caused the greatest stir was captured on video, at a pro-independence rally when she described being goaded by "fat cat Labour councillors" on the night of the referendum.
"It took everything, every fibre of my being, not to put the nut on one of them," she can be heard saying on the video, to laughter and cheers.
There were calls from her opponents for her resignation but the SNP stood by her. Ms Black is now trying to put all of that behind her.
An SNP press officer is accompanying her as we film to make sure she does. So too is a man with a camera who says that he is now running her social media operation. "I am Mhairi Black," he boasts, weirdly.
So, what of those remarks?
"I would say for my opponents to hold immature comments made by a teenager relevant in a society where we've got a million people living in poverty shows that maybe their priorities are a wee bit skewed," says Ms Black.
"What we're finding when we're chapping all these doors is that people are more concerned with the fact that ordinary people are struggling through policies that both Labour and the Conservatives seem hell-bent on implementing."
If elected, she would be the youngest MP since the 19th century, I point out. Doesn't she think voters might want someone with a little more experience and maturity?
"I can't help my age any more than I can help my gender," she says.
It is simply "an aesthetic thing," argues Ms Black and politics should be about "the quality of the arguments that are being made rather than the person that is making them".
The Liberal Democrat candidate certainly does have experience on her side.
Eileen McCartin has been a councillor here for decades. She is admirably frank about her chances, telling me she is not packing her bags to go to London.
"We're not going to win in this seat," she admits.
In that case would she encourage Lib Dem voters who are worried about independence to make a tactical switch to the Labour party to stop the SNP?
"I can understand when people go in that direction. There are people who've done it towards the Liberal Democrats before," she says, but she is not recommending it.
"It's very important that people acknowledge that the Liberal Democrats have got the best policies to take things forward, particularly for people in the poorer end of the market."
The Conservative candidate, Fraser Galloway, a young lawyer, also dismisses calls for tactical voting to stop the SNP.
Handing out leaflets in the sunshine in Paisley town centre with a handful of dedicated volunteers - and a camping chair in the colours of the union flag - Mr Galloway says Labour has been largely absent from the campaign.
It's not our fault Labour are in meltdown, he says, "we're getting people from all sorts of different backgrounds coming out in support."
"There's a very optimistic mood in Paisley you'll see today and I think people do feel that there is a resurgent Scottish Conservative party and they're willing to back it, sometimes for the first time in their lives."
The Scottish Socialist Party candidate Sandra Webster says her campaign against zero hours contracts and in favour of a £10 minimum wage is going down well on the housing estates of the constituency.
"I'm a neighbour of people here in Paisley - I've not been parachuted in - and we're part of this community so we'll always be campaigning on local issues," says Ms Webster although she admits the SSP is likely to be squeezed between Labour and the SNP.
"It's amazing that a 20-year-old might win," she says. "I think the Labour Party are quite worried this time."
If the pattern of politics in Paisley really is changing it could have consequences far beyond the boundaries of this constituency.