General election: Voters canvassed on final campaign weekend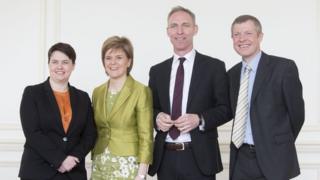 Scotland's politicians have been canvassing voters during the last weekend of the election campaign.
Scottish Liberal Democrat leader Willie Rennie and Scottish Conservative leader Ruth Davidson hit the streets.
So too did Scottish National Party leader Nicola Sturgeon and Scottish Labour leader Jim Murphy
They were campaigning ahead of coming face-to-face for a live leaders' debate in Edinburgh, starting at 19:30 on BBC One Scotland.
Ms Sturgeon met families at a play area in Motherwell where she called on people across Scotland to "unite on May 7 to put an end to austerity, and to invest in things which matter to people in Scotland like the NHS and childcare, rather than Trident".
SNP activists also hosted about 600 street stalls across the country as they stepped up campaigning in the final week.
Mr Rennie was in the capital, joined by former UK Liberal Democrats party leader Sir Menzies Campbell, and said he offered "stability and unity".
Scottish Labour deputy leader Kezia Dugdale campaigned at the Craigmillar Park Tennis Club in Edinburgh to demonstrate Labour's plan to "serve up a fairer Scotland".
She said: "We're at match point in this election, on the verge of delivering a radical Labour government that can change this country for working families and unlock opportunities for young people."
'Quiet majority'
The Scottish Conservatives pushed the message at street stalls across the country that they are now the only pro-union party in Scotland.
A party spokesman said: "Labour and the Lib Dems are frightened to defend the 55% who voted No in September, and we all know where the SNP stand. If people value a strong UK and a strong economy, the only party who will back this up are the Scottish Conservatives."
David Cameron has spoken in support of the Scottish Conservative leader.
He said: "Ruth Davidson has shown that the Scottish Conservatives are once again speaking for Scotland's quiet majority - a majority who want a strong economy and a stable country."
The argument about who will hold the balance of power in the case of a hung parliament has continued.
Ed Miliband's "cack-handed" pledge to abandon his plans for a Labour government if it means working with the SNP has galvanised support for the nationalists, according to the SNP.
Ms Sturgeon said: "Ed Miliband has been so spooked by anti-SNP rhetoric that he has allowed himself to be bullied by the Tories - hence his disastrous pronouncement that he would rather let them back in than work with us to keep them locked out of Downing Street.
"It was a cack-handed move, because in Scotland it simply galvanises even more support for the SNP."
She added: "This election is not about independence or another referendum."
'Huge influence'
However, writing in the Sunday Mail, Mr Murphy said: "In every day and in every way a Labour government will work to make the lives of working class Scots better.
"Unlike the nationalists, we won't be distracted by plotting another referendum."
Liberal Democrat leader Mr Rennie also criticised the SNP.
He said: "With days until the polls, voters have a choice between a government anchored in the centre ground with the Liberal Democrats or a government of instability with the SNP who would leave Scotland and the UK facing massive debt repayments and open the door to a second referendum."
He added: "In each of our eleven held Liberal Democrat seats, voters have a choice between stability, unity and decency in government with the Liberal Democrats or instability and division with the SNP.
"Only the Liberal Democrats have a responsible, decent plan to balance the books by 2018 and deliver an £800m boost to the Scottish NHS."
To find out who is standing in your area, check out the BBC's constituency profiles.
You can watch the Leaders' Debate at 19:30 on BBC1 Scotland or on iPlayer.