Election 2015: Watermarks on Plaid manifesto pictures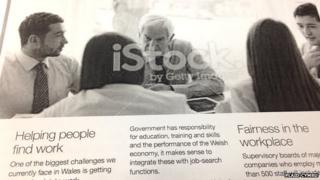 Plaid Cymru says human error led to its election manifesto being published online with watermarks on photographs.
The initial web version of the general election manifesto was taken down for a time because some photos showed the words "iStock by Getty Images".
The document was then restored without the photographs' watermarks.
A Plaid spokesman said the mistake was quickly corrected after a previous version containing watermarks was put online momentarily.
BBC Wales has since found that some of the stock images used in the manifesto can also be found advertising health services in Cinncinatti, advice on sexually transmitted diseases in New Zealand and a detox clinic for substance abusers in Utah.