Election 2015: Plaid Cymru in rural fuel rebate pledge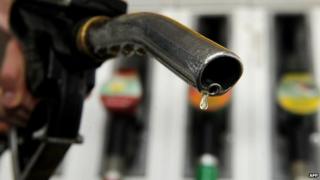 Rural areas of Wales should get a 5p a litre cut in the price of fuel, Plaid Cymru has said.
The party vowed to "fight" to ensure an EU scheme for parts of England and Scotland will take effect in Wales.
But the Conservatives and Lib Dems said they had already helped rural motorists by scrapping a Labour plan to raise fuel prices faster than inflation.
Plaid was launching a farming manifesto for the General Election, at Llangefni, Anglesey.
AM Llyr Gruffydd said the party would also scrap livestock controls dating back to the 2001 foot-and-mouth outbreak, and boost superfast broadband across Wales.
On the fuel rebate issue, Mr Gruffydd said people in rural areas "are forced to spend a higher portion of their income on fuel than people in urban areas".
Pump prices
A spokesman for the Welsh Conservatives said their party had "scrapped Labour's fuel duty escalator, meaning that motorists are now paying 20p a litre less and saving the average motorist £44 a month".
"These savings are thanks to the difficult decisions Welsh Conservatives have taken in government, getting the economy back to growth, reducing the deficit and saving all motorists money at the pumps."
Meanwhile Mark Williams, from the Welsh Liberal Democrats said: "Liberal Democrats in government have already helped rural families with their fuel costs by cancelling Labour's planned fuel duty escalator. Filling up your tank is now on average £675 cheaper per year than under Labour's plans.
"We will continue our fight to extend this rebate to rural Wales so families here can benefit too. With so few MPs, Plaid will have little to no influence in Parliament and will remain completely irrelevant after this election."