Election 2015: UKIP hopes to win five seats in Wales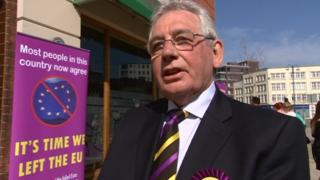 UKIP says it is hoping to take as many as five seats out of the 40 seats in Wales at the general election.
Colin Beckett, the party's candidate in Gower, also denied suggestions UKIP was losing support in the opinion polls.
He said: "I think we will get a pretty good share - if we get five seats in Wales that would be fantastic."
Mr Beckett told BBC Wales that such a result "would put is in good shape next year for the Welsh assembly (election in 2016)".
Asked if the party was holding on to its support since the election campaign began, he said: "People in the streets, people in the pubs, 95% of them would say yes. The media say the opposite, I don't know why."
The other candidates declared as standing in Gower are Byron Davies (Conservative), Liz Evans (Labour), Mike Sheehan (Liberal Democrat) and Darren Thomas (Plaid Cymru).