Election 2015: Nick Clegg's wife campaigns in Cardiff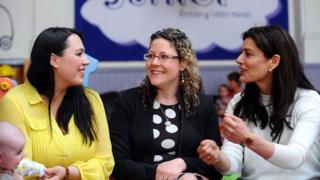 The wife of Liberal Democrat leader Nick Clegg has been on the campaign trail in Cardiff.
Lawyer Miriam Gonzalez Durantez visited a children's play centre in Cathays, campaigning for Cardiff Central parliamentary candidate Jenny Willott.
Ms Gonzalez Durantez spoke to parents and business owners about the issues concerning them.
She told reporters she was "delighted" to be in the Welsh capital.
Other candidates hoping to be elected in Cardiff Central include Richard Hopkin (Conservative), Kazimir Hubert (Independent), Martin Pollard (Plaid Cymru), Anthony Raybould (UKIP), Chris von Ruhland (Green Party), Jo Stevens (Labour), Steve Williams (Trade Unionist and Socialist Coalition).