Election 2015: Welsh Tory 'not interested' in UK manifesto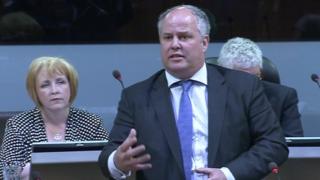 The leader of the Welsh Conservatives admits he has not read the party's UK manifesto for the general election.
Andrew RT Davies was asked on Tuesday about the party's policy on introducing minimum funding for Wales.
The Tories have denied any confusion over a funding floor being dependent on a referendum on income tax powers.
Mr Davies said there was "nothing to clarify" but admitted he had not read the UK manifesto as he was "not interested" in it.
'Relevant' to Wales
The UK Conservative manifesto said the introduction of a funding floor was dependent on the assembly holding a referendum on devolving some powers to vary rates of income tax.
But a party spokesman later said there was only an "expectation" an income tax referendum will be held, a position then restated in the party's Welsh manifesto.
Mr Davies was asked to clarify the situation at a media briefing in the Senedd on Tuesday.
He said: "There's nothing to clarify, it's in the manifesto. Our manifesto.
"I haven't read the London one because I'm not interested in the London one.
"It's the Wales one I'm interested in.
"That's the one I endorse, that's the one that's relevant to the people of Wales."