Election 2015: Labour minority rule risks chaos, says Fallon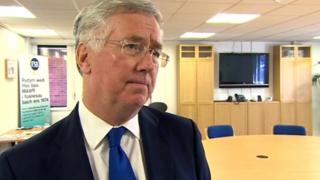 The Conservative defence secretary has warned a Labour minority UK government, or "cobbled together" coalition involving Plaid Cymru and the SNP, would put economic recovery at risk.
Election campaigning in Cardiff, Michael Fallon said such a government would mean "chaos and instability".
Hearing the Welsh Tory leader had not read his party's UK manifesto, Mr Fallon said it was "well worth a read".
Labour said the Conservatives had not ruled out a "dangerous pact with UKIP".
Mr Fallon told BBC Wales said there was a "threat of instability, of putting our economic recovery at risk, if you end up with a minority government".
"It's becoming clear that Labour can't form a government on their own and a cobbled together coalition or minority government, depending day after day on the support of other parties, is simply a recipe for chaos and instability.
"The only way to have a sure, certain government that would continue the recovery and the 50,000 new jobs in Wales is to vote Conservative."
'Disastrous'
Responding, a Welsh Labour spokesman said: "The Tories have consistently not ruled out a dangerous pact with UKIP, that would risk the tens of thousands of jobs dependent on Britain's place at the heart of the EU."
The spokesman added: "The IFS [Institute for Fiscal Studies] lifted the lid on the Tories extreme spending plans today, which would be disastrous for Wales."
UKIP's leader in Wales, Nathan Gill, accused Labour and the Conservatives of "clinging on to what they view as a birthright - power, whilst the British public are making clear that the two-party system is no longer what they want".
"People should vote for the policies that they believe in, and a person that they feel they can trust - nothing else should matter," Mr Gill said.
Liberal Democrat candidate Roger Williams said no party would win a majority and an "unstable government....pulled sharply to left or right" would "cost us all dear".
"This is why we need the Liberal Democrats in government, providing a stable government that can build both a stronger economy and a fairer society."