Is Nippon's sun setting in the north?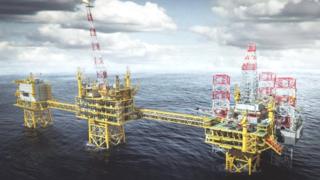 JX Nippon is a big player in Japanese energy and metals. It's the country's biggest oil firm, retailing under the ENEOS brand - not to be confused with Ineos, the refining and chemical specialist that owns much of Grangemouth.
The Japanese company has quite a big stake in the UK North Sea, buying into more of it during the recent boom years.
But with the price of a barrel of Brent crude averaging $43 in its full year results to March, JX Nippon is now getting out, at least partially.
Monday's deal for BP to take on a 16% stake in the Culzean field, off the coast at Aberdeen, looks like a sign of commitment by Britain's long-time oil giant. It already had 16%.
JX Nippon is cutting its stake to 18% with half belonging to, and operated by, Maersk.
But it may be less of a sign of commitment, and more of a requirement to see the investment job through. When one partner pulls out because of a lack of capital, it can be obliged to hand assets to partners.
No price has been given, though there's a clue from last week's full-year results from JX Nippon that it was probably at a knock-down price.
High temperature, high pressure
The Japanese company took a big hit in impaired assets, and mainly from its North Sea assets. It announced plans to shrink its commitment to UK waters.
Restructuring of its activities cost 80 billion yen (£510m) in that full year to March. Impairment of assets were clearly the largest hit to its international portfolio, with the UK subsidiary down by 105 billion yen (£670m), taking the company into a full-year loss.
In trying to reduce exposure to the industry, it is pulling back on capital expenditure, and focusing more on its assets in south-east Asia and around Japan.
The Culzean field is not expected to produce gas for another three years, making this a particularly expensive part of the investment cycle, particularly as it is a technically-challenging, high-pressure, high temperature well.
Looking further north, to the seas east of Shetland, Mariner is another very expensive field, due to viscous "heavy oil".
JX Nippon has 29% of that, some of it bought from ENI in the industry's good times of 2012. Production is not due to start until 2018, so there's yet more capex required there before any cash can be coaxed out of the subsea geology.
The company also has exploration blocks in the North Sea east of Shetland, shared with BP and with Statoil. That, too, may be a victim of capital expenditure cuts, so don't be surprised if there are more deals done, without prices attached.
Brent crude
It's not all impairments and retrenchment in the oil industry though. After much bouncing around the $45 mark, the price has started the week with a surge towards $50 per barrel.
It's been helped upwards by Goldman Sachs, the investment bank, with analysis that suggests the average price this year may be higher than it previously thought.
Canadian production has been disrupted by forest wildfires. That helps explain why there was a drop in the vast reserves of US crude, which have helped depress prices.
But factors that are contributing to growing concern in the oil markets include unrest in Nigeria and direct threats to energy rigs and pipelines, while Venezuela is showing signs of even deeper political disruption and economic decline.
Brent crude may come from the UK North Sea, but its benchmark price is rarely set by any factors around Scottish coasts. The misfortune for the industry based in Aberdeen is that it is mature and relatively costly, when viewed from corporate offices as far away as Tokyo.