Welsh election: Ask the Leader - Conservatives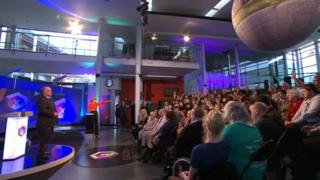 Welsh Conservative leader Andrew RT Davies faced questions from an audience in Swansea in the first of a daily series of live BBC TV election specials.
Who is he?
Andrew Robert Tudor Davies relishes his larger-than-life reputation and once described himself as "19 stone of prime Welsh beef".
When elected Welsh Tory leader in 2011, he was thought of as being on the right of the party and perhaps a little sceptical of devolution.
However, time and again he has supported more powers for the assembly, seeking the ability to cut taxes to attract business to Wales.
Mr Davies has also gone against many within his own party, most recently in a rift with the prime minister over the referendum on Europe.
While David Cameron campaigns to remain in the European Union, the Welsh Tory leader is backing Brexit.
He is also more liberal on some matters than other Tories, such as his support for gay marriage.
Question 1: I'm a Port Talbot girl born and bred, my family's business has invested more than £2m over the last 20 years. If we can do this and show commitment to Port Talbot then why can't the UK government?
Mr Davies said steel was "a vital part of our economic profile" and that politicians had to create the "space and security" for purchasers to come forward, to buy the assets as a going concern. "We cannot allow a fire sale ... we cannot allow Port Talbot Trostre, Llanwern or Shotton to shut," he said.
Question 2: Do you have a stake in an offshore fund?
Mr Davies promised to publish his tax returns in the next few days, but insisted: "I do not have a stake in any offshore funds whatsoever and, no, I have never, ever had a stake in an offshore fund."
Question 3: What are your plans in terms of university tuition fees?
Instead of subsidising tuition fees, Mr Davies said the Welsh Tories would pay students half their rent, having been told living costs were a bigger barrier to further study than tuition fees.
He admitted students may end up having to pay more under the Conservative plan, but claimed people with degrees went on to earn more than those without.
Mr Davies also pointed out that as someone who left school at 16, he wanted to see parity between academic and vocational education.
Question 4: You supported the nurse staffing levels bill, if you win the election will you go further and guarantee staffing levels within the NHS?
Mr Davies said the Conservatives were committed to protecting the health budget, allowing health commissioners to hire the staff they needed on wards, in surgeries and in local communities, to deliver a "well funded, well staffed, well managed NHS" that would tackle the doubling of waiting times he claimed it had seen under Labour.
Ask the Leader can be seen on BBC One Wales at 19:00 BST each day and on the BBC iPlayer.
You can also follow the programmes via social media - @walespolitics
Still to come
Tuesday 12 April - UKIP Wales leader Nathan Gill in Swansea
Wednesday 13 April - Welsh Lib Dem leader Kirsty Williams in Aberystwyth
Thursday 14 April - Plaid Cymru leader Leanne Wood in Aberystwyth
Friday 15 April - Welsh Labour leader Carwyn Jones in Llangollen