Welsh government could buy stake in steel business, says Jones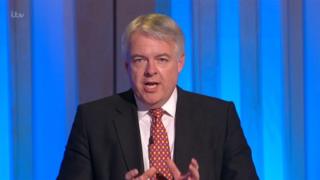 The Welsh Government is prepared to take an equity stake in Tata Steel's UK operation to save the firm's Port Talbot plant if it is "affordable", Carwyn Jones has said.
The Labour first minister was pressed on the issue by Plaid Cymru's Leanne Wood, as party leaders took part in an ITV Wales assembly election debate.
Tory Andrew RT Davies said all options on steel should be considered.
The Lib Dem's Kirsty Williams said Port Talbot must not be "asset stripped".
She said it had to be sold as a "going concern".
Earlier on Wednesday, it was confirmed that Tata Steel's Port Talbot chief Stuart Wilkie is to attempt a management buyout of the company's operations in the UK.
Asked if he was prepared to buy an equity stake in Tata's UK business, Mr Jones replied: "Yes, because we've done it in other industries as well.
"As long as it's affordable, that's the important thing."
Ms Wood said governments "should be prepared to buy an equity stake, if that's something that will help the management buyout become a success".
"This is an industry we cannot afford to lose, and if we could bail out the banks we should be able to bail out steel," she added.
Mr Davies said it was important one option for the business was not favoured over another.
He said the UK and Welsh governments needed to work together so "the space is created to get the sale off the ground".
"Favouring one bid over another at this very early stage is very dangerous," he said.
Ms Williams said the Port Talbot plant must be sold as a "going concern, with those plant furnaces". She warned against an "asset stripping" of the business.
"If we lose those blast furnaces, we're in a lot of trouble," she said.
But politicians had been crying "crocodile tears" over the steel industry, according to UKIP Wales' Nathan Gill.
"Since Carwyn Jones became the first minister we've lost eight other major metal refining plants," he said.
"All of a sudden we've got an assembly election and everybody has got crocodile tears and they're all wearing save our steel badges."
Mr Gill added: "We would ensure that Welsh steel had to be used in all British construction projects. Why are we buying cheap steel from China?"
Wales Green Party leader Alice Hooker-Stroud said the steel industry had a "huge role in a sustainable future for Wales".
But she said: "I think we need to either look at renationalisation or a worker-owned co-op for it."
Ms Williams clashed with Mr Gill after he agreed that youngsters who failed the 11 plus exam had felt written off.
He said UKIP wanted to allow schools to become grammars "so they can become areas of focus and excellence for people".
But when he was asked if pupils who failed the 11 plus felt "written off", Mr Gill said: "Absolutely."
That earned immediate heckles from Ms Williams: "So do it again? Write them off again?"
Mr Gill added: "What we're saying is have an education system that encourages students to learn about the things they want to learn about."
Ms Williams replied: "We certainly wouldn't want to go back to a system which wrote many 11-year-olds off if they failed their 11 plus."
"You can't have an artificial divide at 11 that then sets that [child's] future in stone," she added.
Towards the end of the debate the first minister was challenged on his record on the health service.
Welsh Tory leader Mr Davies said: "The political leadership that has happened over the last 17 years of devolution, and particularly over the last five years, has delivered a doubling of waiting times."
But Mr Jones said: "We spent 42% of our budget on health in 2011, now its 46%. We have increased health spending."
Ms Wood said: "We have to make the NHS an attractive place to do work. At the moment it's very very stressful.
"I've spoken to many professionals who are overwhelmed by stress in the system."
Ms Hooker-Stroud said a much more comprehensive approach to tackling ill health was needed in Wales - "supporting people to be healthier".
"We need to make sure people have really warm homes, that are affordable to heat... that cycle paths and routes to school are safe for people to walk and cycle," she said.
"Lower air pollution and secure jobs would also do much to improve people's health."
The two-hour debate was also broadcast live on BBC Radio Wales.
The six leaders will meet again for a second debate on BBC One Wales on 27 April.
Analysis by Nick Servini, BBC Wales political editor
In terms of the tempo and style, at times the debate resembled First Minister's Questions in the Senedd.
Behind the scenes, Labour won't be too unhappy with that, because they feel it reinforces a perception of Carwyn Jones as a leader.
Nevertheless Leanne Wood, Andrew RT Davies and Kirsty Williams were the ones really attacking Carwyn Jones.
UKIP and the Greens were not really engaging on that matter.
It was a fairly confident debut performance from Alice Hooker-Stroud from the Greens.
But inevitably the most dramatic and lively exchanges were about attacks on Labour's record in power.
As a result of that it was a tough night for the first minister.