Brexit can save Welsh steel industry, UKIP MP claims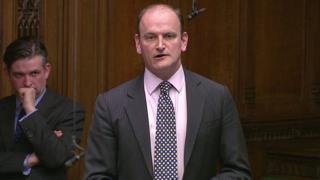 UKIP MP Douglas Carswell has claimed Welsh steel plants can be saved if the UK leaves the European Union, ahead of a visit to Newport.
He met Tata workers in Llanwern before addressing UKIP activists and assembly candidates.
Mr Carswell claimed EU membership stops the UK blocking cheap Chinese imports and helping with energy costs.
But pro-EU Labour MP Jessica Morden said the UK government, not the EU, was to blame for the lack of action.
"Brussels makes it much harder for British steelmakers to do business," Mr Carswell said on Tuesday.
"The EU's anti-fossil-fuel directives and regulations have driven up energy costs - and heavy industry is paying the price.
"While Chinese manufacturers make the most of cheap power, fuel costs for ours have rocketed.
"EU interference in our energy market is making it impossible for our industry to compete."
Mr Carswell said UKIP would give British steel firms a "sustainable future" by lowering their taxes, and cutting their energy bills.
"The Remainers talk about the 'economic benefits' of the EU as if they are spread equally," he added.
"In reality, the gains are restricted to an elite few.
"UKIP are the only party uniting behind saving Welsh steel as the only party that unanimously supports Brexit."
Labour MP Jessica Morden, speaking for the pro-Remain group Wales Stronger In Europe, said Mr Carswell's comments blaming the EU for the UK steel crisis were "inaccurate and opportunist".
She blamed the UK government for blocking EU attempts to restrict cheap imports of Chinese steel, and for delaying financial help for firms with high energy costs.
"Britain has the tools available to support our steel industry, if only the government would choose to use them," she said.