Suspended Newport councillor denies anti-Semitism allegations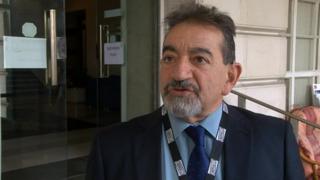 A Newport councillor suspended from the Labour Party has denied he is anti-Semitic.
Miqdad Al-Nuaimi's suspension came after he tweeted: "Jews in whose name #Israeli #Zionist regime commit war crimes should worry: its's same arrogant mentality as #Nazis".
Labour said the move, taken over allegations of anti-Semitism, was "pending an investigation".
But Mr Al-Nuaimi said no one had informed him of the decision.
Another tweet from 2014 said: "#Israel regime & army are increasingly assuming the arrogance & genocidal character of the #Nazis. Curious &strong irony here".
Mr Al-Nuaimi, a councillor for the Stow Hill ward who is Iraqi-born, said: "How can I be anti-Semitic when I myself am Semitic?
"I think it's a sad day that any criticism of Israeli government is equated with anti-Semitism and racism," he said.
He said he would fight the suspension "with every grain in my body".
"There's no truth in it," he said.
Mr Al-Nuaimi said "no one has told me officially that I am suspended".
Ray Truman, deputy leader of the Newport Labour group, said it had been told Mr Al-Nuaimi had been suspended by the party over tweets "he was supposed to have made".
"I'm obviously concerned but I can't give a comment. It's got to be investigated," Mr Truman said.
A Labour spokesman said Mr Al-Nuaimi has been suspended "pending an investigation".