General election: Why May is capping energy prices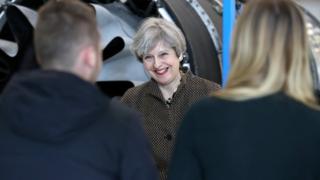 Many words have been written about capping energy prices since the then Labour leader Ed Miliband promised a freeze on prices in 2015.
It was dismissed as some kind of Marxism by the Tories back then, again when Theresa May hinted at it in the autumn, and in this election campaign.
My colleague, Simon Jack has written about industry's worries about the impact.
For a Conservative leader to be pressing ahead with a hefty intervention in a market is quite something.
Tories vow to end 'rip-off' energy bills
How would the energy price cap work?
It cuts across traditional Tory free market instincts and has critics aplenty.
And there are misgivings about imposing an absolute cap inside government too.
I understand ministers had not originally intended to go ahead with a full cap when the PM first gave her hint in the autumn. There was an element of wait and see.
One minister told me they hoped that they had put the firms on notice, and they would only crack on with a full cap if the "big six" continued with price rises.
That is, of course, precisely what happened.
Perhaps the energy firms even put up some bills in anticipation of the government acting. (Chicken and egg, would they have put up bills without the threat of a cap to keep bills down?)
In any case, the prime minister is pressing ahead with a policy that's more or less out of Labour's 2015 playbook that the Tories hope will appeal to voters across the board, even though it will rankle with some of their true believers.
It's evidence of part of Theresa May's set of beliefs that strays from a more straightforward Conservatism - that is when markets are "broken", governments ought not to let them fail, but instead to intervene.