Fox hunting not most important election issue - Theresa May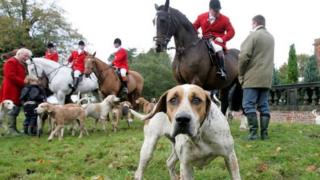 Fox hunting is not the most important issue facing people in the general election, Theresa May has said.
The prime minister was asked about the issue during a Facebook Live session hosted by ITV News.
Mrs May said she had never been fox hunting but supported it and would let MPs decide whether "to bring it back".
"This isn't the most important issue facing people at this election," she said, citing Brexit and the question of "who's going to be prime minister'".
Fox hunting was among a range of topics on which Mrs May was quizzed as she became the first serving leader of a UK political party to take part in a Facebook Live broadcast in the run up to the 8 June general election.
Asked about fox hunting, the prime minister said: "This is a subject on which you are either for it or against it. I have always supported fox hunting, but clearly I'm not saying I'm going to bring it back.
"What I'm saying is we will have a free vote in Parliament so MPs will be able to make up their own mind on this issue.
"This isn't the most important issue facing people at this election. I think the most important issue is about who's going to provide the leadership for the future to take us through Brexit and beyond."
Mrs May said it was necessary to keep fox numbers down and there was an issue about how the creatures should be culled.
"Some of the other forms of dealing with foxes can be cruel, so my view is it should be a free vote for Parliament so members of parliament individually should be able to exercise their view on this matter," she added.
Traditional forms of fox hunting were outlawed by Tony Blair's Labour government in 2004.