Winter fuel payment: Ruth Davidson says Scots should keep benefit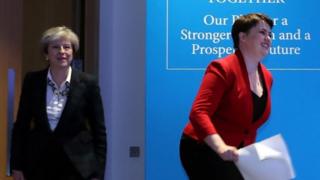 Scottish pensioners should continue to get winter fuel payments because the country is colder, the Scottish Conservative Party leader has said.
On Thursday Theresa May announced plans to means-test the benefit in England and Wales if she wins the election.
But the SNP-led Scottish government says it will not follow suit in Scotland - and Ruth Davidson has now said she will not try to either.
Labour has said it will keep universal payments if it wins power.
At the moment, households automatically receive a single payment, ranging from £100 to £300, each December if there is one person living there who has reached the qualifying age and who meets other criteria.
About 12.26 million people received the tax-free allowance in 2015-6, at a total cost of just over £2bn.
Under plans in the Conservative manifesto, eligibility would be related to income - although the party has not indicated what the threshold would be and who would qualify.
But the cut would apply only in England and Wales - all pensioners in Scotland would continue to receive the payments because the SNP-led government wants to keep them.
Ms Davidson, the leader of the Scottish Conservative Party, who sits in the Scottish Parliament, said she would not be calling on First Minister Nicola Sturgeon to fall in line with the rest of the UK if Conservative leader Mrs May wins the general election.
"We have made a different choice in Scotland in our Scottish manifesto today. We believe there should not be means-testing for the winter fuel payment.
"The reason that we have said that is that Scotland has a colder climate. We also have a different amount of housing stock.
"Devolution allows you to make different decisions."
'Death risk'
The SNP, which is in government in Scotland, said limiting help to the poorest was "just wrong", and it was right to give pensioners "who've contributed all their lives a little bit of extra help during the cold winter months".
But Mrs May said it was wrong that well-off pensioners were supported with their fuel bills "when struggling ordinary working families are not".
"I think there is a principle of fairness that underpins this. And crucially, of course, the money that is released as a result of the changes to the winter fuel payments will go into health and social care," said the Conservative leader.
Labour has said it will keep universal payments if it wins power - and claimed axing the payments for some increases the risk of people dying this winter.
On Saturday, Jeremy Corbyn will step up his attacks on the pledges in the Conservative manifesto, which he claims amount to a "triple whammy of misery" for pensioners.
In a campaign speech in Birmingham, he will call on Mrs May to drop her "anti-pensioner package" of winter fuel changes and an end to the triple lock which guarantees the state pension rises by at least 2.5% a year.
Shadow chancellor John McDonnell said that because the Tory manifesto was "uncosted" it was difficult to tell how many people would be affected by means-testing the winter fuel allowance.
He suggested it could be as many as 10 million - a figure dismissed as "guesswork" by the Tories.
"This is the problem with having an uncosted manifesto. You send out messages that scare people.
"People expect a bit more honesty, transparency and openness."
'Triple whammy'
Critics have argued that fuel allowances, introduced in 1997, are poorly targeted with everyone getting them regardless of their financial circumstances, including thousands living outside the UK.
In 2014, ministers encouraged better-off pensioners who could afford their heating bills to return the money to the state.
But figures obtained by the BBC found just 29 pensioners decided to decline their fuel allowance in 2014-5.
Labour have said the means-testing of fuel allowances, allied to the ending of the "triple lock" guarantee for pension spending and reforms to social care rules, amounted to a "triple whammy" for pensioners.
The Lib Dems said that while they backed means-testing of winter fuel allowances, proposed Tory reforms to social care funding - which critics have dubbed a "dementia tax" - were "utterly cruel and heartless".
Leader Tim Farron said plans to include someone's property in the means test for receiving free care in their own home would "clobber" families with dementia sufferers.