General election 2017: Extremist exclusion orders 'used'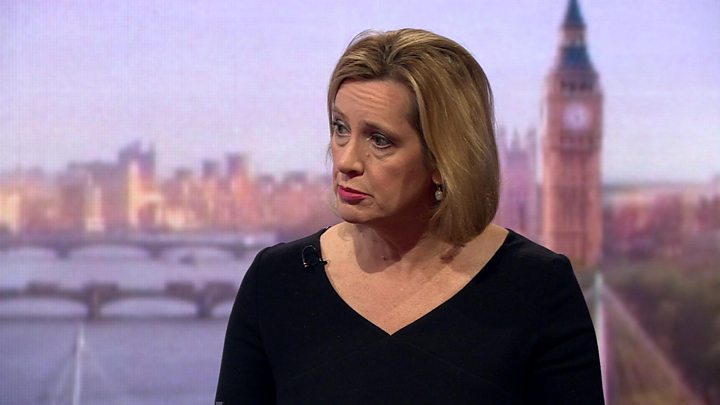 Powers to stop suspected extremists returning to the UK have been used for the first time, Amber Rudd has revealed.
She would not tell the BBC's Andrew Marr how many times temporary exclusion orders had been used but said they were part of a home secretary's "tool kit".
Some of bomber Salman Abedi's network may still be at large, she added.
Her comments came as police released a picture of the attacker who killed 22 people in Manchester on Monday.
It is known that he had travelled to Libya, but not if he had also visited Syria.
The home secretary said she did not know how many potential "jihadists" had returned to the UK from war zones.
Asked if it was possible to tell where someone travelling into the UK had left from, she said: "It's all intelligence-led.
"We have very good intelligence services who help to collect that information to make sure we do follow and track the right people who might be dangerous."
She confirmed exclusion orders had begun to be used, saying the number "is no longer zero".
"It is part of the tool kit a home secretary has, to keep people safe," she said.
MI5 are looking at 500 different plots, 3000 people on a top list and 20,000 on a lesser high risk list, she confirmed.
Both the Conservatives and Labour have been talking about their election manifesto policies to try to protect the public.
Theresa May plans a new commission to counter extremism and "stand up" to Islamist extremists and others who threaten British values.
The party has not released full details of how it would work but has promised it will be a statutory body with "proper teeth and a clear remit".
The prime minister said: "Our enjoyment of Britain's diversity must not prevent us from confronting the menace of extremism, even if that is sometimes embarrassing or difficult to do.
"Extremism, especially Islamist extremism, strips some people of the freedoms they should enjoy, undermines the cohesion of our society, and can fuel violence. And it can be especially bad for women.
"There is clearly a role for government in tackling extremism where it involves behaviour that is or ought to be criminal.
Labour leader Jeremy Corbyn said Conservative cuts had undermined security.
He said Labour would recruit an extra 10,000 police officers, 3,000 more firefighters, 3,000 more prison officers, 1,000 more security and intelligence agency staff and 500 more border guards if Labour wins the general election.
He is also promising extra staff for the security and intelligence agencies - GCHQ, MI6 and MI5 - in order "to better ensure our collective safety".
"Only Labour is serious about properly resourcing our security and frontline services."
Ms Rudd told the BBC's Andrew Marr the security budget had "already gone up significantly".
"We are recruiting for 1,900 people for MI5, If there is a need for more recruitment, or more security, or more armed vehicles, which we are investing in as well, we will look at that," she said.
"From 2015 to 2020 we agreed to lift the budget from £11bn to £15bn. We will make sure, we put the right resources in, to keep people safe, always."
Terrorism law 'concerns'
Questioned by ITV's Robert Peston on his Commons voting record on anti-terror measures, Mr Corbyn said he had been "assiduous in my scrutiny of anti-terror laws", adding: "I do support work with the police and our security services on intelligence-led actions."
He said he was always concerned about executive orders, detention and control because everything should be subject to judicial process.
Representing a constituency with a large Irish population where people were detained under the 1974 Prevention of Terrorism Act helped shape his view, he said.
In Autumn 2015, the then Chancellor, George Osborne, promised to spend £3.4bn extra on counter-terrorism - an increase of 30% - over the following five years.