Jeremy Corbyn says Labour are the party of equality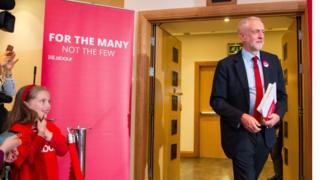 Jeremy Corbyn has said Labour are "the party of equality" - while accusing the Conservatives of "holding back" black, Asian and minority ethnic people.
The Labour leader highlighted a recent rise in anti-Semitic and Islamophobic hate crime as an illustration of "how far we have to go" as a society.
Mr Corbyn said he would increase the Equality and Human Rights Commission's powers and work for a "fairer society".
Labour has been accused by some of not doing enough to tackle anti-Semitism.
More than 100 Labour MPs called for the party to expel Ken Livingstone over his remarks about Adolf Hitler and Zionism.
In October, the Commons home affairs select committee accused Mr Corbyn of failing to provide "consistent leadership" in tackling anti-Semitic abuse within Labour ranks.
Labour's manifesto commits the party to try to "build a society and world free from all forms of racism, anti-Semitism and Islamophobia".
As he launched the party's race and faith manifesto at an event in Watford, Mr Corbyn said: "Labour is the party of equality.
"We were built on the values of social justice, internationalism and human rights.
"Our values are rooted in the fundamental truth that whatever your background, wherever you are from, you should have the means and opportunity to fulfil your potential.
"Labour will implement a comprehensive strategy for racial equality, one that effectively challenges the disadvantage many black, Asian and minority ethnic communities suffer."