Election 2017: Is politics too tightly controlled?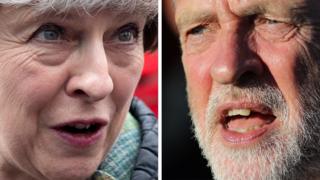 History doesn't repeat itself, but it does burp.
Bored by an over-controlled election campaign starring a lady in Number Ten with little contact with ordinary voters and an old gent wowing rallies of only the lefty faithful? Comparing today's campaign with what happened to writer Robert Harris - then a cub reporter on Newsnight - in 1983 is uncanny, almost creepy.
"These allegations of a female prime minister avoiding all contact with journalists and the public are not new," he tells me.
"I came the wrong end of an encounter with Margaret Thatcher who was touring a factory... It was a breakout new kind of election, an American-style copied from Reagan where you didn't do the monster rally, you didn't go out on the hustings, you just got good pictures for the evening news.
"It was really noticeable the difference between Thatcher's campaign and Foot's campaign which was huge rallies - one evening I think he had 30,000 people - much good it did him."
Michael Foot lost and Mrs Thatcher won in 1983.
With two terror attacks scarring this election, security for the prime minister requires control. But has there been over-control?
Look up The Hecklers, an extraordinary black and white documentary made by US film director Joseph Strick in 1966, and you will see that politics now is so much more boring than it used to be.
To watch Harold Wilson handle hecklers is to glimpse a master of an art form that no longer exists.
The Labour prime minister was regaling a big hall in Birmingham on his government's spending plans when a heckler yells: "What about Vietnam?" and he replies, quick as a flash: "We have no expenditure plans in Vietnam."
An Empire loyalist, angry at Labour's policy in Rhodesia, barks: "Why are you talking to savages?" Wilson whips back: "We don't talk to savages. We only allow them into our meetings."
At a Tory rally, Quintin Hogg, was irritated to see a Labour supporter brandish a placard bearing Wilson's face. Without missing a beat, Hogg starts smashing the placard with his walking stick.
Politics, back then, was raw and sometimes brutal theatre in the open - and open to all. A politician who wasn't up for a bare knuckle fight, now and then, wouldn't last long.
IRA terrorism in the 1970s saw the end of the truly open political meeting, but in the eighties and nineties access to the leading lights was far greater than it is today.
Labour's deputy leader Denis Healey was once ambushed by a punk A-level student at a school hustings who challenged him: "Mr Healey, all this is very interesting, but what we want to know is... how big's your plonker?"
To which the former war hero and beach-master of Anzio replied: "Big enough."
In 1992, I made an election video diary for the Late Show. Paddy Ashdown would leap over a fence to talk to anyone, Neil Kinnock's minders kept me away from him but John Major gamely filmed me while adjusting my tie.
In that election, the public punished Kinnock for being over-controlled, his campaign too slick - until the end - while rewarding Major for standing up on his soapbox.
Has Theresa May's slip in the polls been in part because the public don't like what Harris calls the "North Koreanisation" of British politics - that she hasn't taken a leaf out of John Major's book?
"There's something wrong with this election," says Robert Harris.
"No matter what your party is, that the prime minister in particular is not engaging with people is an offence to the electorate. There is this sense of a fragile leader being protected from interaction with the people in case something goes wrong.
"We really do need to see what our leaders are made of outside this protected environment."
Reporters on the Tory campaign say that in last few days things have eased up - that the prime minister has been more open to questions from journalists and access has improved.
On Tuesday night, the moment the Newsnight team arrived at a May event in Slough, we were commanded to go into a room, with tea and coffee, but no ordinary people and no politicians. We were let out for the event proper.
Though the prime minister has taken questions from journalists at some events, this event passed off with no questions from the likes of me.
Boris Johnson was the warm-up man and the prime minister spoke with passion to a cheering posse of her own side. No-one heckled, no counter-argument was made.
It was all Judy and no punch.
To be fair, pretty much the same happens - or doesn't happen - at Jeremy Corbyn's mass rallies.
Control may feel right for the political parties, but one cannot but wonder whether our democracy is losing out.