Election results 2017: Labour takes Ipswich from Tories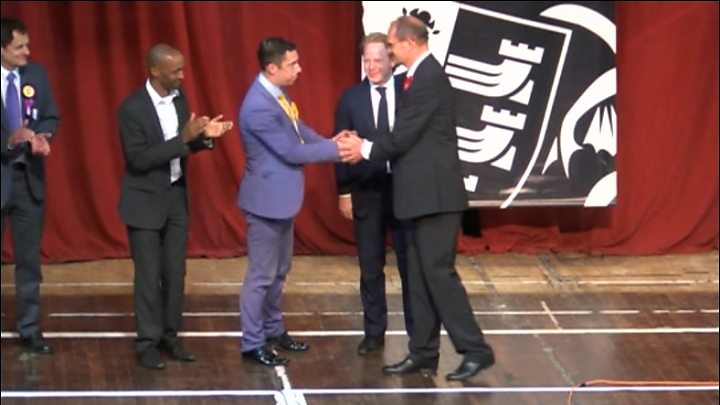 Labour has snatched Ipswich from the Conservatives by fewer than 1,000 votes.
Ben Gummer, who had been the town's MP since 2010, got 23,393 votes compared with 24,224 votes for Labour's Sandy Martin.
Mr Martin said he had seen "a good deal of enthusiasm" while out on the campaign trail.
He said Labour ran a "very good election campaign, conducted in a civilised way with a great degree of sense and a clear focus".
Mr Gummer said: "What I've not often spoken about is, what I'm thankful for, is that I've learned so much from being a member of parliament, more than I could ever have hoped to have learnt in another role, and I feel a better person for it with broader opportunities and views than I otherwise would have had."
Conservative Dr Dan Poulter, who held Central Suffolk and North Ipswich, said: "At the moment Theresa May is our leader, and the prime minister and I can't see that position changing in the immediate future.
"When we're about to go into those Brexit negotiations it's important we have a degree of stability during that time, particularly when those negotiations begin."
Analysis: Vikki Irwin, BBC Suffolk political reporter
In a sea of blue in Suffolk, right at the centre there is now a splash of red.
The Conservatives held on to six out of the seven seats they had prior to the snap election but Ipswich has returned to the Labour fold. This means cabinet minister and rising Tory star Ben Gummer has lost his seat. A dignified and emotional speech followed, but as one of the architects of the much criticised Tory manifesto, one could argue he was the author of his own downfall.
Suffolk's other marginal seat Waveney turned up another surprise, this time however in favour of the Conservative incumbent Peter Aldous. He extended his majority to more than 9,000 from just under 2,500. Considering Waveney is seen as even more marginal than Ipswich, it was unexpected for the Conservatives to make such gains after such a loss in the county town. This can be explained, however, by the move of the UKIP vote to the Conservatives in Waveney.
Aside from Waveney, only two of the other Conservative-held seats increased their majority -West Suffolk with Matthew Hancock and James Cartridge for South Suffolk.
For Dr Dan Pouter in Central Suffolk and North Ipswich, Therese Coffey in Suffolk Coastal and Jo Churchill in Bury St Edmunds held their seats despite a surge in the Labour vote. In fact, the Labour vote increased across the board in all seats except for in Waveney.
So Suffolk wakes up to a new Labour MP for the first time since 2010. Whether this new MP Sandy Martin is on the government benches or the opposition benches is still very much up in the air, as we also wake up to a hung parliament.
Sorry, your browser cannot display this content.