Election results 2017: Northamptonshire remains a sea of blue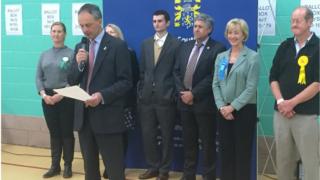 A former contender for the Conservative leadership has defended the decision to call a snap election.
Andrea Leadsom, who lost the leadership battle with Theresa May in 2016, kept her South Northamptonshire seat with 76% of the vote.
Speaking to the BBC, Mrs Leadsom said: "I don't agree it has been a disastrous Conservative campaign.
"It was very important we had the election campaign."
Live: For more from Northamptonshire
Her victory was one of the seven Tory wins in Northamptonshire.
Earlier in the night there were rumours of a potential Labour upset in Northampton North.
However, Michael Ellis retained his Northampton North seat by 807 votes, nudging Labour's Sally Keeble into second place.
Elsewhere, Tom Pursglove kept Corby with a small increase in his majority over Labour. Before the result came in he warned he would be "devastated" if he did not win.
And Andrew Lewer has stepped into the Northampton South shoes left by outgoing MP David Mackintosh.
Mr Mackintosh had a majority in 2015 over Labour's Kevin McKeever of 3,793. However, Mr Lewer's majority over him is much slimmer - just 1,159 votes.
Analysis: Sam Read, BBC Northampton Political Reporter
What a 24 hours.
On Thursday morning I spoke to some very confident Conservative activists in the county.
Then came that exit poll - and then the first signs that Northampton North was going to be close, even talk that Labour had taken the seat. I spent the night looking at very nervous Conservative faces in Northampton.
But in the end Northamptonshire's political map stays totally blue. But in some cases with reduced majorities.
In Northampton North the majority for Michael Ellis now stands at just 807.
That wasn't the case everywhere. Tom Pursglove increased his majority in Corby, which until today was the most marginal seat.
Labour is left thinking about what might have been, but while the Conservatives have the seats here there is still much for those MPs to think about.
Sorry, your browser cannot display this content.