Election results 2017: Did we miss the noise?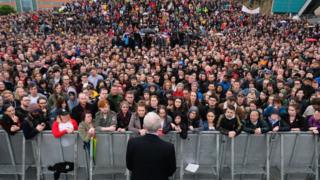 One thing I learnt from the US presidential campaign was that sometimes you have to ignore the numbers and the rational response and just listen to the noise.
We saw it all over America - wherever Trump was, there were crowds, there were queues, there was enthusiasm and there was noise. We saw it for Bernie too. But we didn't much see it for the other candidates.
This time around I swore I wouldn't miss the noise. And sure enough about three weeks ago, we noticed it everywhere that Corbyn went.
I talked to my family about it. Was this the noise that meant Corbyn was on track for success? Or was this the noise that greets a man who goes to places he already knows he has lots of fans?
That was the difficult thing. We couldn't tell if it was new noise - or voters he already had.
Overnight we found out. Corbyn didn't of course win the election. But he did overturn results in parts of the country we haven't associated with Labour for a long time - if at all.
He won in Canterbury - a seat that has been Tory since World War One. He won in Suffolk - the market town in Ipswich.
He won in Stroud - the Cotswolds. In the Cotswolds. That's right.
And who could have seen that coming?
So yes, I looked up when I saw the crowds, the queues, the noise - and I listened.
But should we have trusted that the noise that followed him would come out and actually vote for him? The noise was telling us something. That's why we call it noise.