Man arrested for egging Jeremy Corbyn in Finsbury Park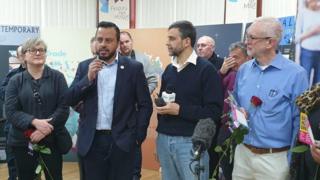 A man has been arrested after an egg was thrown at Labour Party leader Jeremy Corbyn in north London.
It happened as Mr Corbyn was visiting a mosque in Seven Sisters Road, not far from where the MP lives, just before 16:00 GMT on Sunday.
The Metropolitan Police said a 41-year-old man was "quickly detained by officers on scene" and arrested on suspicion of assault.
The man is in custody at a north London police station, the force said.
Mr Corbyn had been visiting the Finsbury Park Mosque and Muslim Welfare House to coincide with Visit My Mosque Day.
Police escort
The Press Association said it was believed Mr Corbyn had been chatting to community leaders when a man came from behind him and hit him on the head with an egg.
The Labour leader is believed to have left with a police escort at about 18:30 GMT.
Mr Corbyn later tweeted about the "fantastic opportunity" Visit My Mosque Day opened up to communities, without mentioning the egging.
Labour MP Jess Phillips tweeted that "acts of violence against politicians loses your argument, lessens your cause and demeans our democracy".
A Metropolitan Police spokesman said: "On Sunday, March 3 at around 3:52pm an egg was thrown at a Member of Parliament."