General election 2019: Chief rabbi attacks Labour anti-Semitism record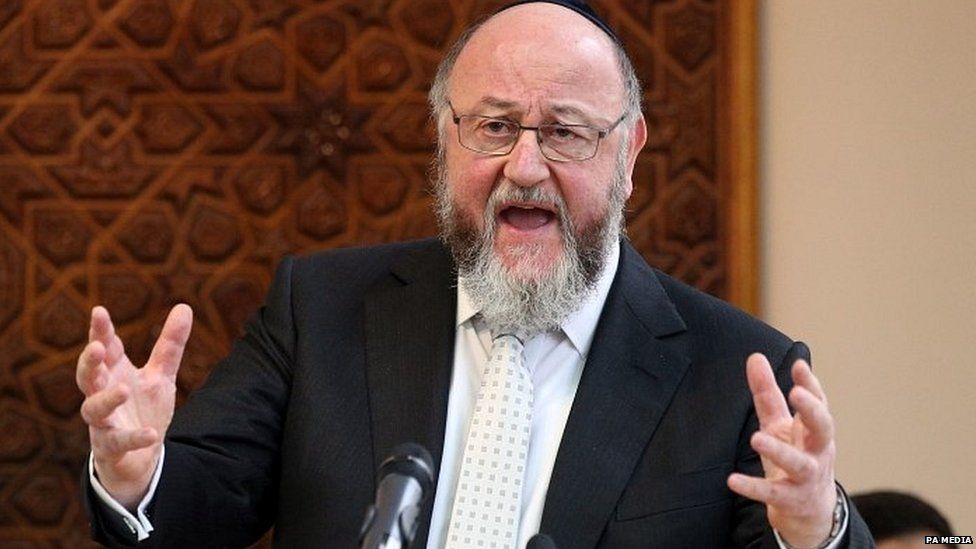 The chief rabbi has strongly criticised Labour, claiming the party is not doing enough to root out anti-Jewish racism - and asked people to "vote with their conscience" in the general election.
In the Times, Ephraim Mirvis said "a new poison - sanctioned from the very top - has taken root" in the party.
Labour's claim it had investigated all cases of anti-Semitism in its ranks was a "mendacious fiction", he added.
But Jeremy Corbyn said the party had taken "rapid and effective" action.
At the launch of the party's "race and faith manifesto", the Labour leader said anti-Jewish racism was "vile and wrong" and would not be tolerated in any form under a future Labour government.
He said internal processes for dealing with anti-Semitism cases were "constantly under review" and his door would be open to Rabbi Mirvis and other faith leaders to discuss their concerns if he entered Downing Street.
Labour has been beset by allegations of anti-Semitism for more than three years, leading to the suspension of a number of high-profile figures such as Ken Livingstone and Chris Williamson, and an unprecedented investigation by the Equality and Human Rights Commission.
A number of prominent Jewish Labour politicians, including Luciana Berger and Louise Ellman, have quit the party after being the subject of anti-Semitic abuse on social media while others have accused Mr Corbyn of personally endorsing anti-Semitic tropes and imagery.
In his article, the Orthodox chief rabbi of Great Britain and Northern Ireland - who is the spiritual leader of the United Synagogue, the largest umbrella group of Jewish communities in the country - says raising his concerns "ranks among the most painful moments I have experienced since taking office".
But he claims "the overwhelming majority of British Jews are gripped by anxiety" at the prospect of a Labour victory in 12 December's general election.
He writes: "The way in which the leadership of the Labour Party has dealt with anti-Jewish racism is incompatible with the British values of which we are so proud - of dignity and respect for all people.
"It has left many decent Labour members and parliamentarians, both Jewish and non-Jewish, ashamed of what has transpired."
He adds that it was "not my place to tell any person how they should vote" but he urged the public to "vote with their conscience".
The chief rabbi claimed the response of Labour's leadership to threats against parliamentarians, members and staff has been "utterly inadequate" and said it "can no longer claim to be the party of equality and anti-racism".
Mike Katz, the chair of the Jewish Labour Movement group which is officially affiliated to the party, said the chief rabbi was "absolutely right" and there had been a failure of leadership over anti-Semitism in Labour.
The Archbishop of Canterbury, Justin Welby, said the chief rabbi's "unprecedented" intervention "ought to alert us to the deep sense of insecurity and fear felt by many British Jews".
In a statement, he said everyone should be able to "live in accordance with their beliefs and freely express their culture and faith".
The Labour peer Lord Dubs, the child refugee campaigner who fled Nazi-occupied Czechoslovakia in the 1930s, said he regretted some of the language Mr Corbyn had used in the past about Israel and the fact he had met with groups who denied its right to exist.
But he told BBC Radio 4's Today these episodes were "quite a long time ago" and had to be seen "in the context" of Mr Corbyn's support for peace in the Middle East.
"I think things have happened under his leadership which should have been stopped way back," he added. "I believe the Labour party is moving forward. It is not good enough what has happened in the past."
This is a sweeping and unequivocal condemnation of Labour's leadership, its treatment of Jewish parliamentarians and its handling of allegations of anti-Semitism.
It's also highly unusual for such an intervention by the leader of a religious denomination during a general election campaign. The chief rabbi has pastoral oversight for a large proportion of people who identify as Jewish in the United Kingdom.
Last week, the Archbishops of Canterbury and York appealed to voters and politicians to "honour the truth" and "challenge falsehoods" but there was no specific criticism of individual candidates nor their party leaders.
But the chief rabbi's article asks if Jeremy Corbyn is fit for high office and calls on voters to consider what the result of this election "will say about the moral compass of this country?"
Last year, three Jewish newspapers, - The Jewish Chronicle, The Jewish News and The Jewish Telegraph - published exactly the same front cover on 25 July - arguing that a Labour government under the leadership of Jeremy Corbyn would prove "an existential threat" to British Jewry.
The chief rabbi, in this highly critical column, is saying much the same.
The Labour leader faced criticism from Jewish groups when he said in last week's general election ITV leader's debate that the party had "investigated every single case" raised by complainants.
The chief rabbi takes issue with Mr Corbyn's claim, citing figures from the Jewish Labour Movement of "at least 130 outstanding cases".
At an event in Tottenham, north London, the Labour leader did not directly address the number of outstanding cases but defended the party's disciplinary processes as being "rapid and effective".
"Anti-Semitism in any form is vile and wrong, it is an evil within our society," he said.
"There is no place whatsoever for anti-Semitism in any shape or form or in any place whatsoever in modern and Britain and under a Labour government it will not be tolerated in any form whatsoever."
He added: "In government our door will be open to all faith leaders. Chief Rabbi welcome. Archbishop of Canterbury welcome. Those from the Hindu community are all very welcome."
South-African born Rabbi Mirvis became chief rabbi in 2013. In a Facebook post in July, he congratulated Boris Johnson on his election as Conservative leader, describing the new prime minister as a "long-standing friend and champion of the Jewish community".
According to the British Board of Deputies, there are between 260,000 and 300,000 Jews in England and Wales. Around half belong to the Central Orthodox denomination which includes the United Synagogue, led by the chief rabbi.
Measures to combat anti-Semitism were among a number of policies unveiled by the party, including:
Changing the law to include attacks on places of worship as a specific aggravated offence
Working with social media firms to combat the rise of anti-Semitism online
An independent review into the threat of far-right extremism and how to tackle it
Reviewing the national curriculum to ensure it teaches about racism, anti-Semitism, Islamophobia, xenophobia and black history, and to continue education about the Holocaust
Ensuring coroners services meet the needs of faith communities, with "out of hours" services to ensure quick burials when required, allowing some Jewish and Muslim families to bury loved ones in accordance with their religious practice
The Muslim Council of Britain, which has repeatedly criticised the Conservatives for failing to address anti-Muslim prejudice amongst their members, said not enough was being done to tackle racism "whether from the left or the right".
It said British Muslims would "agree on the importance of voting with their conscience".