Election results 2019: When do we find out who has won?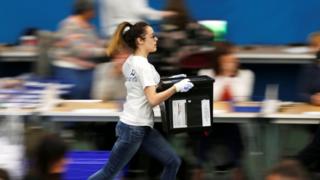 The polls have closed and election night is upon us which, for some at least, means a night of strong cups of coffee, swingometers and a battle to stay awake.
There are 650 seats in the House of Commons up for grabs, meaning the winning party needs 326 to claim a majority.
Results are starting to come in, but how long will it be before we know who's really won? Here's a guide to what to look out for and when.
23:00-01:00 - First results
What to look for: Is Labour's "red wall" crumbling?
After that initial excitement, there might be a bit of a lull as results start to trickle in. Expect the early chat to be about Labour in the north-east of England, as places like Halton, Washington & Sunderland West and Newcastle upon Tyne East will declare early.
Experts have talked about Labour's "red wall". These are traditionally Labour seats in north-east Wales, the Midlands and the north of England that voted in favour of Brexit. They're seen as key targets for the pro-Brexit Conservatives.
One early seat to look out for is Workington (remember all that talk of Workington man?), which is likely to declare shortly before 01:00. Labour has held the seat for 40 years, yet 61% of people there voted Leave. Has the "get Brexit done" Tory message cut through?
01:00-02:00 - The battle for Lanark & Hamilton East
What to look for: Are the Tories winning in places like Wrexham?
Things should begin to speed up a little bit. Look out for the result in Labour's Darlington, which will declare at about 01:30. The Tories have targeted it. And if it's going to be a good night for Labour, they might hope to take Swindon South off Justice Secretary Robert Buckland (he has a 2% majority). And Hartlepool could be interesting: Brexit Party chairman Richard Tice is standing there.
The Tories will hope to win Vale of Clwyd and Wrexham, which form the western end of that "red wall" we mentioned above. Meanwhile, in London, Justine Greening's former seat of Putney is up for grabs. Labour is eyeing it.
And if it's a three-way, winner-takes-all, battle royal you're after, you're in luck. Just 360 votes separated the SNP (who came first), the Conservatives (second) and Labour (third) in Lanark & Hamilton East last time. There could be fireworks when it declares at about 01:30.
02:00-03:00 - Lib Dem targets
What to look for: Was Iain Duncan Smith the first big casualty?
Key Conservative targets including Labour's Stockton South (1% majority) and Great Grimsby are likely to declare before 03:00. And Caroline Flint's seat of Don Valley could also be vulnerable to the Tories. Watch out for those.
Labour is aiming for Alun Cairns's seat of Vale of Glamorgan and will be looking for a big scalp in the shape of Iain Duncan Smith, in Chingford and Woodford Green. The prominent Brexiteer and former Tory leader has a 2,438 (5.2%) majority.
We should also get a sense of how the Lib Dems' night is going. They expect to win St Albans but it is unclear how successful ex-Labour MP Chuka Umunna will be in Cities of London and Westminster. Also watch out for Sheffield Hallam, where Labour's Jared O'Mara is standing down - that's Nick Clegg's old seat. Leader Jo Swinson's seat of Dunbartonshire East is also expected to declare about now. Her majority is just over 5,000.
Labour shadow Scotland secretary Lesley Laird could lose her Kirkcaldy and Cowdenbeath seat and Dartford, a bellwether seat that flip-flops between the Conservatives and Labour, should declare at about 03:00. That could be interesting. At about the same time Islington North, Labour leader Jeremy Corbyn's seat, should announce its result.
03:00-04:00 - Potential shocks
What to look for: Beast of Bols-over - did Dennis Skinner lose?
Watch for a Lib Dem win in Devon North as it could spell trouble for the Conservatives in the South West. The Lib Dems are also eyeing a cabinet scalp in the shape of Dominic Raab. His Esher and Walton seat has returned Tory MPs for 100 years, but Remain-supporting voters could make it vulnerable for the party.
It is worth watching if Labour firebrand Dennis Skinner loses Bolsover to the Conservatives after almost 50 years. John Mann's former Labour seat of Bassetlaw could turn blue. The same might happen in Ashfield, while Canterbury might also go back to the Conservatives - Rosie Duffield has a majority of just 187.
Having defected from Labour and leaving her Liverpool Wavertree constituency, Luciana Berger is hoping to win Finchley and Golders Green. Another Lib Dem convert - Sam Gyimah - could be part of a three-way marginal in Kensington (if he's lucky)
And two results are due from Belfast just after 03:00. In Belfast South, Sinn Fein is standing aside in an attempt to help the SDLP oust the DUP. The SDLP is returning the favour in Belfast North. About an hour later we should also hear from Fermanagh & South Tyrone where the UUP will hope the DUP's decision not to stand again helps them beat Sinn Fein.
04:00-05:00 - All eyes on Uxbridge
What to look for: Dominic Grieve, Anna Soubry and of course Boris Johnson
Hundreds of results will be in. But there's still more to come. Can ex-Tory Dominic Grieve win Beaconsfield as an independent? And can fellow ex-Tory Anna Soubry win Broxtowe, or will she just open the door to a Labour gain? We should find out about now.
Stoke-on-Trent North and Stoke-on-Trent Central are both Brexit-supporting Labour seats under threat from the Conservatives. And Labour targets Milton Keynes South and Hastings and Rye are worth watching.
Labour is also targeting Loughborough, the former seat of ex-minister Nicky Morgan, who has stood down.
Finally, will Boris Johnson be slightly nervous in Uxbridge and South Ruislip? He has the smallest majority of any sitting prime minister for 100 years. We'll find out if he wins at about 04:30.
05:00-07:00 - Have we got a winner?
What to look for: Recounts, concessions and victory speeches
Most counts will be completed by 06:00. But there could still be time to watch a big beast face defeat. One of Labour's best chances of a significant scalp is beating Environment Secretary Theresa Villiers in Chipping Barnet.
Independent Claire Wright has high hopes in Devon East, having come second last time and if the Lib Dems have made little progress so far, they should at least expect to win Richmond Park. Zac Goldsmith won the seat last time by just 45 votes.
That should be about it. And if you've made it to 07:00, congratulations.