General election 2019: Conservatives win West Bromwich East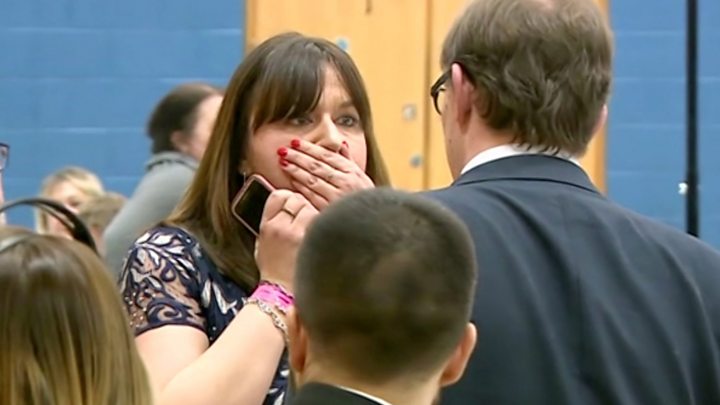 The Conservatives have made sweeping gains in traditional Labour areas in the West Midlands - including the seat of ex-deputy Labour leader Tom Watson.
Mr Watson stood down in West Bromwich East ahead of the election and the seat was won by Tory Nicola Richards.
Tories also took seats from Labour in Dudley North, Wolverhampton North East and South West and West Bromwich West.
The first Labour candidate to ever lose in Dudley North said the party was fighting against "the perfect storm".
Melanie Dudley, who lost out to Marco Longhi, a former mayor of Walsall, said: "I think the simplicity of the message from the Conservatives helped - I will also be fair and say that Corbyn didn't always play well on the doorstep. At all.
"And when we asked people if they liked Boris Johnson, if I'm being truthful they didn't. But they seemed to prefer him to Corbyn."
Ms Richards, who at 24 will be will be one of the youngest MPs in Parliament, said after her victory she wanted to "come in and make things better".
Result for West Bromwich East
If you cannot see the graphic click here
She netted a majority of 1,593 ahead of Labour's Ibrahim Dogus.
Brexit had been a factor in the result for the Conservatives Ms Richards said, adding: "We put a question to the people, they gave us an answer. We absolutely listened to people... people here want to be heard, I am hearing them, I understand them, I'm from the Black Country, I get it."
Jane Stevenson took Wolverhampton North East from Labour's Emma Reynolds, who had represented the constituency since 2010, by a majority of 4,080.
In Wolverhampton South West, Tory Stuart Anderson took the seat from Labour's Eleanor Smith, who became the West Midlands' first black female MP, at the 2017 election.
He said while Brexit had been an important factor on the doorsteps, people were also interested in crime, the NHS and education.
"Brexit was one part, but we need to get on with the other things that we've put forward in our campaign pledges," he added.
"There's a lot to be done in Wolverhampton... and there's a whole host of areas that I really want to focus on and make sure that Wolverhampton thrives moving forward."
Mr Longhi gained Dudley North for the Conservatives with a majority of 11,533.
It was previously held by Ian Austin, who did not defend the seat and quit the Labour Party in February, then urged voters to back the Conservatives.
The seat was the fourth-most marginal in the country in the run up to the vote, with Labour defending a majority of just 22.
Mr Longhi said: "I'm ecstatic that the people of Dudley North have decided to put their faith in me and I'm delighted for the country in that we'll now be able to move things forward."
The Conservatives also won West Bromwich West, a seat which had been held by Labour since it was created in 1974.
Shaun Bailey secured a majority of 3,799 votes - winning just over 50% of the vote.
Pat McFadden was the only of Wolverhampton's three Labour MPs to be re-elected, retaining the Wolverhampton South East seat he has held since 2005.
His majority slipped from 8,514 votes in 2017's election to 1,235.
He said he was "very disappointed to lose two very good colleagues" and the party needs a "cultural change".
"It's incumbent on us to ask some very deep and searching questions, which are a lot more deep than just having a leadership election," he said. "We need a new direction as well as a new person at the top."
Conservatives also held seats in Dudley South, Stourbridge, Halesowen & Rowley Regis and Aldridge-Brownhills, while in Walsall North, Tory Eddie Hughes was re-elected, securing 23,334 votes.
In Warley, John Spellar held the seat for Labour. He has been the MP in the constituency since 1997.
Labour's Valerie Vaz held her Walsall South seat, which she has represented since 2010, with a majority of 3,456,
Analysis by BBC Black Country Political Reporter Rob Mayor
Earlier this week, a Labour candidate in a marginal Black Country constituency admitted to me that they expected to lose in this election.
Several others told me they'd found things tougher on the doorstep than in 2017, but I don't think any believed the damage would amount to five Tory gains.
The idea that West Bromwich would get not one but two Conservative MPs for the first time since the 1930s was unthinkable at the start of this campaign.
"Getting Brexit done" seems to have been the issue which prompted lifelong Labour voters to abandon the party in these Leave-voting towns and cities.
The question is whether the Labour party can ever coax them back.