How Scalia's death reshapes four Supreme Court cases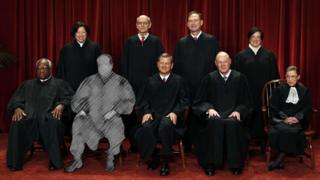 Much of the political discussion following Justice Antonin Scalia's death has centred on the impact it will have on the Supreme Court for decades to come. A new justice - whether appointed by Barack Obama or a Democratic successor next year - could shift the court's balance from conservative to liberal for a generation.
The vacancy on the Supreme Court presents more immediate concerns, however. The court is in the middle of its term, and it is in the process of reviewing a number of high-profile cases on subjects like immigration reform, union dues, healthcare reform and abortion.
It seems increasingly likely that the battle over Scalia's successor will drag on for months. President Barack Obama has announced that he will select a nominee, but Republicans in the Senate, which must confirm any appointment, appear committed to blocking any candidate until a new (Republican, they hope) president takes office in January 2017.
In other words, the court could be left with eight justices for 11 months or more. If the vote on a case under consideration ends in a four-to-four tie, the court is effectively silent. The lower-court decision being reviewed continues to stand - but only in the particular court's jurisdiction. It has no binding effect on the rest of the nation.
This presents an unusual situation where the benefits of such ties vary greatly depending on the disposition of the case at question. How a circuit court or state supreme court ruled becomes of the utmost importance - at least until the uncertainty in the high court is settled.
Although most court cases don't result in votes that are so sharply divided, several this term appear headed in that direction. Here are four key cases that could end up in a tie - and who would benefit from such a stalemate.
---
Immigration reform - A group of 26 states, led by Texas, sued the US government challenging the legality of President Barack Obama's unilateral executive action in 2014 which suspended the deportation of the families of US citizens and permanent residents.
The US Court of Appeals for the Fifth Circuit reviewed the case and halted implementation of Mr Obama's policy pending full consideration of the merits of the case. The Obama administration asked the Supreme Court to expedite consideration of the case, and the justices agreed.
If it's a tie: The Fifth Circuit suspension would stay in effect until a district court trial could be conducted. Mr Obama's high-profile decision to bypass Congress in implementing reform of US immigration law would likely languish past the end of his administration in January.
Who wins? Conservatives have vociferously objected to what they call Mr Obama's dictatorial actions. For them a tie here is as good as a win.
---
Union dues - Public-sector employees are not required to join a union, but the Supreme Court held in 1977 that unions can charge non-participating employees a fee to cover certain expenses incurred while operating on their behalf.
Ten schoolteachers, with the assistance of a Christian educational group, sued the California Teachers Association, charging that paying such fees violated their constitutional right to free speech. The Ninth Circuit US Court of Appeals ruled in favour of the union.
If it's a tie: The Ninth Circuit opinion, which deferred to the 1977 Supreme Court decision, would prevail and public-sector unions across the US would continue to be able to collect fees.
Who wins? If the public-sector unions make it through this case with their fee-collecting ability intact, it will almost certainly be because of Scalia's death. Just a year ago Justice Samuel Alito wrote an opinion in a related case, joined by Scalia and the three other conservative justices, that all but telegraphed that changes were coming. That's all been thrown in doubt now.
---
Abortion - In 2013 Texas passed a law that required abortion clinics in the state to meet the same medical standards as outpatient surgical centres and any abortion-performing physicians to have admitting privileges at a hospital within 30 miles of their practice.
Critics said the law would make it prohibitively expensive for many abortion clinics to operate and effectively close those that are in rural areas far from hospitals.
A group of women's health clinics and physicians filed suit against the state, arguing that the law placed an undue burden on a woman's right to an abortion, but the Fifth Circuit Court of Appeals held that the law was constitutional.
If it's a tie: The Fifth Circuit ruling upholding the Texas law would stand. It would only have effect in Louisiana, Mississippi and Texas, however.
Who wins? Abortion foes would end up celebrating the outcome, as it would allow the Texas law to go into effect. With Scalia on the court, however, there may have been five votes to uphold the new abortion restrictions, paving the way for more states to follow suit and ending the legal challenges already working their way through other jurisdictions.
---
Healthcare reform - Another year, another challenge to Mr Obama's signature healthcare reform plan. At issue this time is a requirement in the law that all insurance plans must provide free-of-charge coverage for birth-control drugs. Because of objections from religious non-profit groups that said they were being forced to pay for certain types of contraception that they viewed as immoral, the Obama administration implemented a work-around that moved the cost of coverage onto the government.
Religious groups sued the government in a number of different courts to strike down the requirement that they notify the government that they were exercising their moral objection, which would make it easier for the government to implement an alternative coverage. The Supreme Court consolidated seven of these cases and agreed to consider them all at one time.
If it's a tie: All seven cases in question go back to the lower courts from which they arrived. Most of them have upheld the legality of the Obama administration's provision in varying degrees.
Who wins? Nobody! Or maybe everybody. In many jurisdictions the government's rules would go into effect. In the Eighth Circuit, covering seven states in the central US, the rules would be suspended pending further legal action. All in all it would create an enormous headache for government bureaucrats in charge of implementing and enforcing the healthcare law.