US election 2016: Ohio and Florida hold key primaries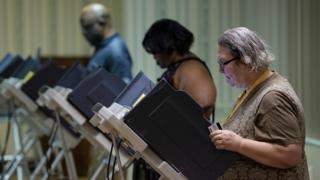 Five US states are holding primary elections for November's presidential poll, in a crucial round that could give Democratic and Republican front-runners a chance to cement their leads.
Polls have opened in Ohio and Florida - both deemed key states - as well as in North Carolina, Illinois and Missouri.
Democratic front-runner Hillary Clinton is hoping to fend off her resurgent challenger, Bernie Sanders.
Meanwhile Donald Trump will aim to edge out his rivals in the Republican race.
With nearly half of votes reported in Florida, both Mr Trump and Mrs Clinton have decisive leads.
The New York real estate mogul is the favourite to win his party's nomination but has run into fierce opposition from within the Republican establishment, as well as facing condemnation from the Democrats.
He scored an early success on Tuesday when he secured all nine delegates in the Northern Mariana Islands, part of the US Pacific Commonwealth, after winning almost 73% of the Republican caucus there.
What to expect from Super Tuesday - the sequel
Russian state TV swings behind Trump
What Trump says about protesters at his rallies
Victories for any of Mr Trump's rivals - Ted Cruz, Marco Rubio, or John Kasich - in this round of primaries would give hope to the Republicans fighting to block him.
But polls have given Mr Trump a healthy showing in all five mainland states.
Two primaries seen as most crucial are in the winner-takes-all states of Florida, offering 99 delegates, and Ohio, with 66 delegates.
Senator Rubio, currently in third place for the Republican nomination, has said he must win in Florida, his home state, in order to stop Mr Trump from "hijacking" his party's nomination, but polls put Mr Trump slightly ahead.
However, Mr Trump is trailing Mr Kasich in Ohio, where the fourth-place candidate for the nomination is governor.
For the Democratic nomination, Florida offers the greatest number of delegates - to be distributed proportionally - with 246. Meanwhile Illinois offers 156 delegates and Ohio 143.
Opinion polls have given Mrs Clinton a comfortable lead over her rival, Vermont Senator Bernie Sanders, especially in Florida and North Carolina. But Mr Sanders appeared to be gaining ground in the three other states.
Mr Sanders pulled off a major political upset with his win in Michigan a week ago.
---
Analysis - Anthony Zurcher, North America reporter
For Republicans, this latest slate of nomination contests is important not just because of the number of convention delegates up for grabs - 349 - but how they will be apportioned.
While the first Super Tuesday had a whopping 595 delegates at play, 15 March marks the first time states can hold "winner-take-all" primaries. The entire batch of delegates is awarded to the winner with even the narrowest plurality of the total state vote.
The Democrats don't play the winner-take-all game, but that doesn't mean that this isn't a pivotal day for their presidential race as well.
Although Mrs Clinton has a solid delegate lead, Mr Sanders is riding a wave of momentum following a shocking upset in the Michigan primary. Now all eyes are on whether he can outperform polling once again, particularly in states that are near Michigan, like Ohio and Illinois, and have similar levels of white, pro-union, working-class voters who have been receptive to Mr Sanders's economic populism and anti-trade-deal rhetoric.
What to expect from Super Tuesday - the sequel
---
Mrs Clinton, visiting supporters in North Carolina on Tuesday, said "the numbers are adding up in my favour" but she was not complacent.
She praised both her and Mr Sanders' campaigns, saying they had "actually focused on the issues... not insults" - a pointed attack on her Republican opponents.
Mr Trump has come under fire from both Democrats and Republicans after a string of violent incidents at his rallies.
His critics say his hard line on Muslims and immigrants, and inflammatory comments made about protesters at his rallies, have encouraged the violence and an atmosphere of hate.
But the hotel tycoon has rejected the accusations and called himself a "uniter".
The Republican House of Representatives Speaker, Paul Ryan, called on Tuesday for "an atmosphere of harmony, to reduce the violence" and to make sure politicians appealed to people's best natures.
President Barack Obama said he had been dismayed by events on the campaign trail and said he rejected "any effort to spread fear or encourage violence".