Delving into Trump's reality TV playbook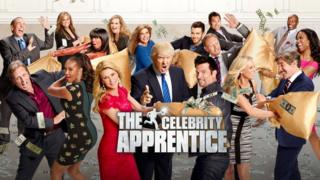 Could all those years of Donald Trump saying "you're fired" on reality TV actually get him hired - as president?
Onetime rival Jeb Bush was fond of saying that the presumptive Republican nominee relied on "the shows" to inform his campaign.
While Bush meant it as a putdown, the former Florida governor may have been on to something.
Trump is no stranger to "the shows". He's been a frequent guest on talk shows for decades and hosted NBC's Apprentice and its spin-off Celebrity Apprentice for 14 seasons.
So have any reality TV techniques crept onto the campaign trail?
---
1. Invite an unpredictable guest
As seen on TV: (The Real Housewives series) If you're a Real Housewife of wherever, the cocktail party is your battlefield. And America's wealthy socialites always bring back-up - the feistier, the better. Housewives have been known to add a wildcard guest into the mix to throw their rivals off their game (and create plausibility deniability). In season one of the Real Housewives of Beverly Hills, Camille Grammer famously invited psychic medium Allison Dubois to a supposedly staid dinner party. "Your husband will never emotionally fulfil you. Ever," she told one of Grammer's flummoxed frenemies.
As seen on the campaign trail: Trailing in the polls to Ben Carson and Ted Cruz before the Iowa caucus, Trump needed to shake things up. Enter Sarah Palin. The onetime vice-presidential candidate and former governor of Alaska emerged from the political wilderness to give the Trump campaign a shot in the arm. She endorsed Trump with a mystifying speech. "They didn't want to talk about these issues until he brought 'em up. In fact, they've been wearing a, this, political correctness kind of like a suicide vest," she said among other things. For a whole day the focus was off his rivals. (See also: Knight, Bobby; Arpaio, Joe)
---
2. Forge a (temporary) alliance
As seen on TV: (Survivor) Survivor - where castaways compete in a remote locale with nothing but their wits and a few tools - is credited with ushering in a wave of reality TV in the US. The show became a national phenomenon in the summer of 2000 not because of challenges of the island but because of its politics. Winner Richard Hatch, a pudgy corporate trainer, entered into a pact with three fellow, fitter contestants, keeping him in the game long enough to betray them.
As seen on the campaign trail: Although their relationship eventually soured, Trump and Cruz enjoyed a whirlwind "bromance" in the summer of 2015. The two hosted a rally protesting against President Barack Obama's Iran deal in front of the US Capitol and were positively chummy at several of the debates. "I like Donald Trump. He's bold; he's brash... I'm not interested in Republican-on-Republican violence," Cruz said in July. The Texas senator helped Trump clear the crowded field of candidates, only to find himself the victim of Republican-on-Republican violence.
---
3. Throw someone under the bus
As seen on TV: (Project Runway, Top Chef, etc) The phrase "throwing someone under the bus" doesn't involve public transport, but rather stabbing a friend in the back on national television. The phrase is a mainstay in competition shows like Project Runway, Top Chef and America Next Top Model. When contestants are about to be judged, they often target the weakest link to survive.
As seen on the campaign trail: Like Cruz, Trump started out as a friend of Carson, the kindly retired neurosurgeon who also ran as an outsider candidate. But Trump changed his tone once Carson crept ahead of him in the polls as the Iowa caucus drew closer. Trump went for the jugular calling him "pathological" and comparing him to child molester. Ouch.
---
4. Don't be afraid to get 'real'
As seen on TV: (The Real World) "Find out what happens, when people stop being polite, and start getting real," is how the granddaddy of all American reality TV shows opened on MTV in 1992. The housemates would encamp in "the confessional" - a spare room where they could look directly into the camera and tell the producers exactly how they felt. The behind-the-scenes look help give the impression of a raw unvarnished show.
As seen on the campaign trail: While other candidates play to the crowd, Trump's number one priority is the camera and while on camera he leaves little unsaid. Also, no one another candidate in the modern political history has been so enamoured with the process of politics. Trump talks about polls (endlessly), reporters and other candidates' strategies - things that until the 2016 race were the realm of political blogs not stump speeches. But all the while his supporters feel like they're in the loop.
---
5. Conflict, conflict, conflict
As seen on TV: (Almost every reality show produced) It's a poorly kept-secret that reality TV producers love drama. And every reality TV contestant knows, the more drama you create the longer you stay on television. Many a combative star has been saved from the chopping block because of their potential for more bad behaviour.
As seen on the campaign trail: Now that Trump knocked out 16 other Republican candidates you'd think he'd take well-deserved break from feuding before tackling Hillary Clinton, the likely Democratic nominee. But there's no rest for the cantankerous. In the past few days, Trump has tussled with the New York Times, Senator Elizabeth Warren, CNN, House Speaker Paul Ryan, British Prime Minister David Cameron and London Mayor Sadiq Khan, just to name a few.
---
Follow Tim Swift on Twitter @tim_swift